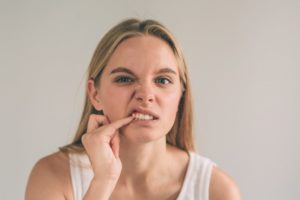 According to recent research from the Centers of Disease Control and Prevention, well over half of the American population has some stage of gum disease. Since this common condition initially causes very mild symptoms, it can easily be accidentally overlooked. However, if gum disease isn't treated early enough, it can lead to tooth loss, permanent jawbone damage, and even a higher risk of heart disease. Read on as your Marysville dentist explains what the different stages of this oral health concern look like and what you can do to protect your smile.
Gingivitis: Early Warning Signs of Gum Disease
Gum disease starts off as gingivitis. This is a bacterial infection in your gum tissue caused by a buildup of plaque and bacteria that causes symptoms like:
Inflamed, swollen, and bright red gums.
Gum tissue that's sensitive to touch or temperature.
Gums that bleed easily when flossing, brushing, or eating.
While these symptoms can be irritating, they do not cause any permanent damage. Typically, improved oral hygiene and more routine cleanings from your dentist are enough to treat and reverse this stage of gum disease.
Periodontitis: Permanent Damage of Gum Disease
Even though the symptoms of gingivitis are mild, it's essential to treat them right away. If the infection lingers, it can grow stronger and advance into periodontitis. This stage indicates that the harmful bacteria have spread to the jawbone and begun to attack the connective tissues that hold your teeth in place. Signs of periodontitis include:
Chronic bad breath or bad taste in the mouth.
Receding gums or deep pockets between the gums and teeth.
Teeth that are loose, shifting, or painful to chew with.
While the permanent damage caused cannot be reversed, the symptoms of periodontitis can be managed with the help of your dentist. They may suggest a treatment like root planning and scaling to fully eliminate the harmful bacteria and repair your smile.
How to Stop Gum Disease in its Tracks
The best way to treat gum disease is to prevent it from developing in the first place. To protect your gums from bacterial infection, it's crucial that you thoroughly clean away plaque and bacteria by regularly brushing and flossing every day. For added support, try using a specialized fluoridated antibacterial mouthwash. Certain rinses are designed to combat gum disease and can help your body fight off oral infections.
Perhaps the best way to keep gum disease at bay is to see your dentist for a routine dental checkup and cleaning every six months. They can detect signs of gum disease you aren't able to see or feel yet, then treat them right away before any unnecessary damage or discomfort occurs. However, the main purpose of seeing your dentist twice a year is to prevent gum disease from occurring altogether.
About the Practice
Our highly trained team at Darby Creek Dental in Marysville, OH is dedicated to helping you maintain a happy, healthy smile for life. That's why we use periodontal tracking to measure the health of your gums at every routine checkup. If any issues are detected, we offer a range of effective treatments to get your oral health back on track. If you're concerned about the health of your gums, please don't hesitate to contact us via their website or at (937) 644-8822.