Cosmetic Dentist – Marysville, OH
Make Your Dream Smile Come True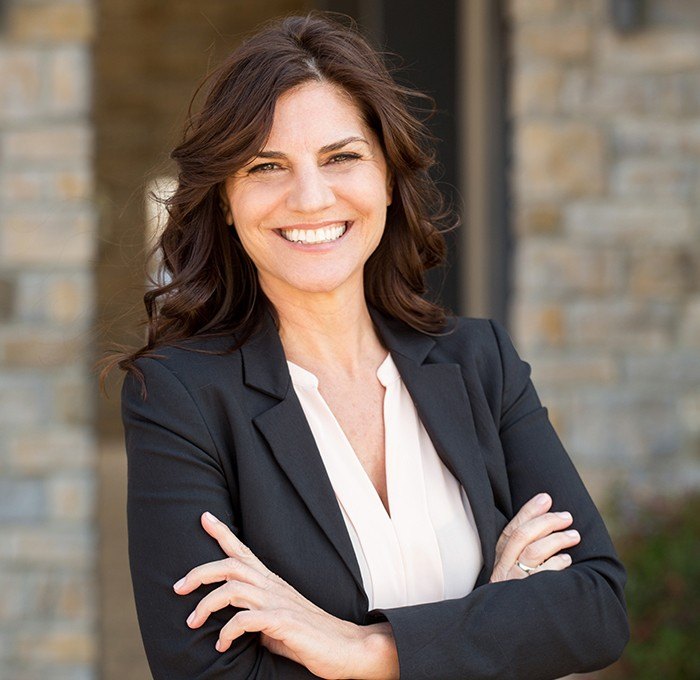 Having a brilliantly white, perfectly aligned smile doesn't have to be a dream. At Darby Creek Dental, our skilled cosmetic dentists make picture-perfect smiles a reality for our patients from Ostrander and other nearby communities every day. We invite patients to contact our Marysville dental practice to schedule a cosmetic dentistry consultation to find out more about the variety of services we provide. Our dentists can transform smiles quickly, comfortably, and effectively by using innovative techniques and quality materials.
Why Choose Darby Creek Dental for Cosmetic Dentistry?
Years of Advanced Training and Clinical Experience
Innovative Technology for Comfortable Treatment
Caring
Dental Team
Porcelain
Veneers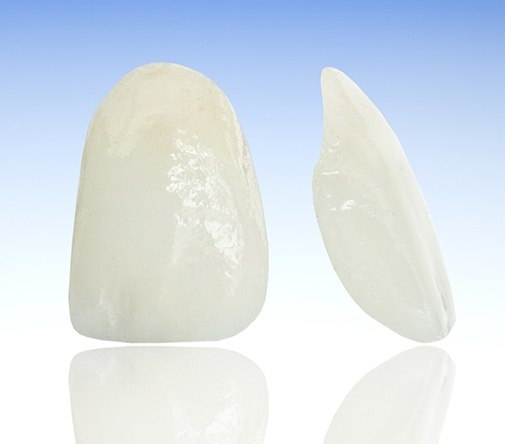 We may not be able to undo years of dental damage like cracks, chips, stains, and gaps in teeth, but with porcelain veneers, we can completely transform smiles in just a few visits to our office. Veneers are thin sheaths of high-quality dental grade porcelain that resemble eggshells. They are placed over the front surfaces of teeth to conceal any number of smile flaws. The treatment is simple: during an initial visit to our Marysville office, a small amount of surface tooth enamel is removed. Once the teeth are prepared, we take impressions that our ceramics lab uses to craft custom porcelain veneers. In the interim, we place a temporary veneer to help patients get used to the look and feel of their new smile. Once the final veneer is complete, patients return to exchange the temporary veneer for their brand new, flawless smile. Veneers are the perfect smile solution for patients who want to correct a number of smile flaws without undergoing advanced cosmetic, restorative, or orthodontic treatments.
Learn More About Porcelain Veneers
All-Ceramic
Dental Restorations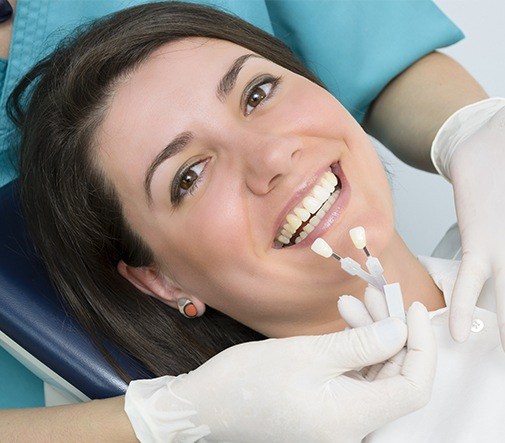 Our skilled dentists plan care with the understanding that all dental treatment is cosmetic because it affects our patient's appearance. We wouldn't take our car to the body shop to have a scratch repainted and be happy with just any color to correct the damage. The work isn't done until the car looks as good as new. While gold, silver, and porcelain bonded to metal crowns, inlays, and onlays effectively restore the shape and function to smiles, they don't match the brilliant white shine of healthy, natural teeth. All-ceramic dental restorations offer superior cosmetic results, even compared with porcelain bonded to metal restorations, which tend to develop darker colored spots or bands over time.
The high-quality ceramic material closely mimics the appearance of tooth enamel, reflecting light for a picture-perfect shine. Our trusted ceramics lab is able to combine the material to seamlessly blend with the coloring of surrounding teeth. In most cases, no one but you and our skilled dentists will ever know your tooth was restored. The process is no different than traditional dental crown placement, and the material is stain resistant, meaning patients get natural, beautiful results that last.
Direct
Bonding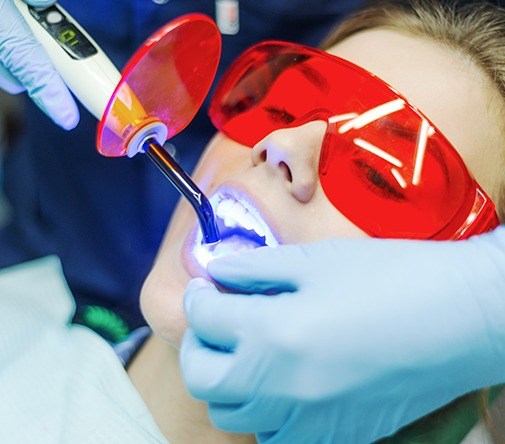 If you want similar coverage to that of porcelain veneers but with a lower price tag, you should consider direct bonding. With composite resin, which is used for tooth-colored fillings, we can correct the appearance of chips, cracks, gaps, discoloration, and other visual imperfections. Not only is this treatment less expensive, but it can also usually be completed in just one appointment. This means that you can walk out with your improved smile on that same day!
At-Home
Teeth Whitening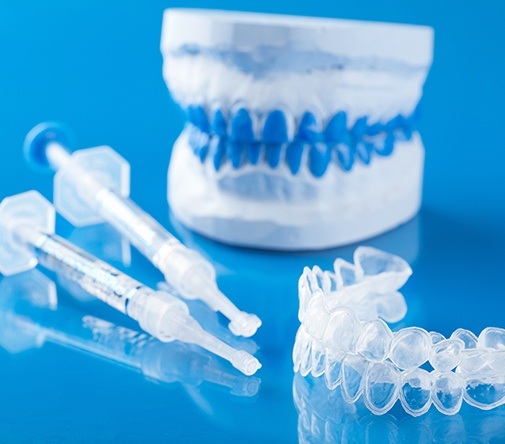 You've likely seen teeth whitening kits at the store and wondered if they really work. Over the course of two weeks, these commercial whitening solutions can typically brighten your smile by a couple of shades. For more dramatic results, you need professional-grade gel. That's where our powerful take-home kits come in. With whitening trays that are custom-made to fit your unique teeth, you're sure to get even coverage. In the same two weeks, you could see up to 8 shades of improvement!
Gum Recontouring/
Crown Lengthening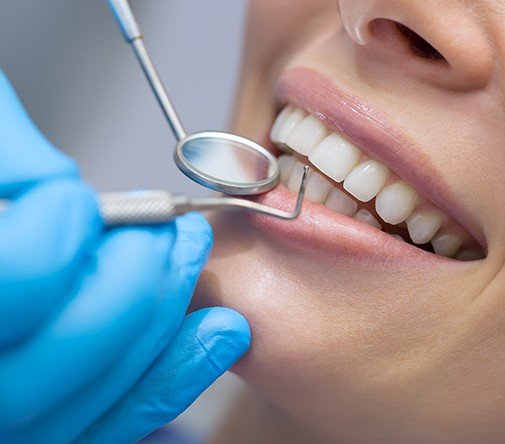 An ideal smile has the perfect balance between the gums and teeth. However, some smiles have an abundance of gum tissue, making the teeth appear especially small and the gums overwhelming. Using a soft tissue laser, we can carefully uncover more tooth surface and reduce the "gummy smile" look, all without the need for sutures or sharp scalpels. In fact, this treatment is so precise and gentle that you may not even need local anesthetic.
Virtual
Smile Design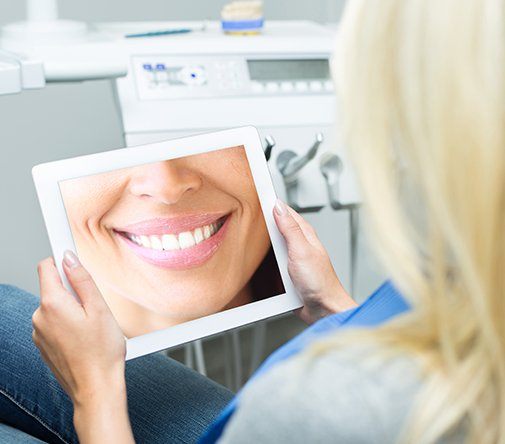 Is it difficult for you to imagine what your new and improved smile will look like after treatment? We have the technology to give an idea of what to expect. We'll take a picture of your current smile and use special software that allows us to manipulate the image and show you how treatment will change your appearance. With this preview in mind, you can feel much more confident about moving forward with treatment and get excited about your transformation.
Botox®
Cosmetic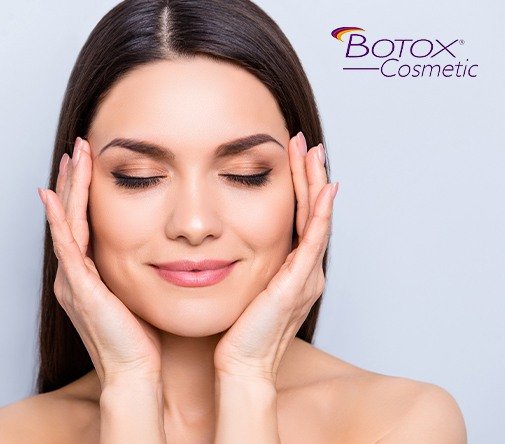 While you're revamping the appearance of your teeth, why not also address those fine lines and wrinkles around your mouth? That way, your smile can truly glow and look as youthful as possible. Botox effectively relaxes the muscles responsible for these wrinkles, taking years off your appearance. With our expertise in facial structures, our dentists know exactly where to administer these injections for optimal results. Trust us to be your cosmetic one-stop shop!
Learn More About Botox® Cosmetic
Invisalign®
Clear Braces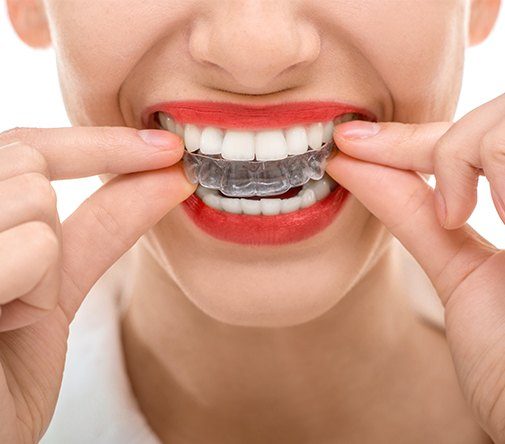 When patients hear the word braces, they probably imagine an adolescent with a mouth full of metallic brackets and wires. At Darby Creek Dental, we have a more cosmetic alternative – Invisalign Clear Braces. This orthodontic treatment uses a series of clear, plastic alignment trays to gradually shift teeth into position. These aligners are virtually invisible to the casual observer, and because they're removable, patients don't need to make any changes to their diet or oral hygiene routine. The Invisalign system is ideal for busy professionals because they only need to come our office for short visits typically every six weeks, and the entire treatment process is completed in 10-18 months, compared with two or more years for traditional orthodontics.
Learn More About Invisalign® Clear Braces
Smile
Makeovers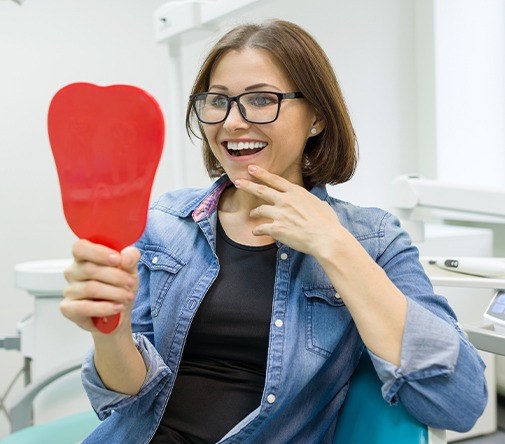 If your smile has suffered damage or even tooth loss, the thought of a beautiful smile can feel out of reach. But it's not! We can design a smile makeover for anyone, no matter the current condition of their teeth. Just schedule a consultation for a smile makeover, and we'll create a treatment plan consisting of the necessary procedures that will get your smile back where you want it to be.