Dental Implants – Marysville, OH
Complete Tooth Replacement for a Confident Smile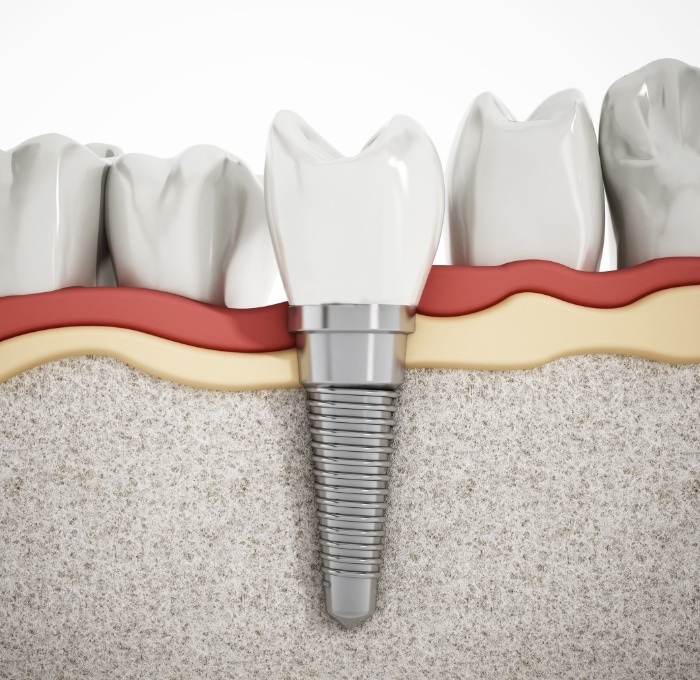 There's no such thing as a one size fits all solution to dentistry, but when it comes to tooth replacement, there is only one treatment option that restores the entire dental structure, including both the roots and the biting surface of teeth. The Darby Creek Dental team offers patients in Plain City and surrounding areas dental implant supported tooth replacement for superior whole tooth restoration. Tooth roots provide support and stability for teeth, anchoring them to the jaw. Additionally, the root structure stimulates jawbone and gum tissue density that supports facial shape and volume. Contact our Marysville team to find out if dental implant tooth replacement is right for you.
Why Choose Darby Creek Dental for Dental Implants?
Completely Customized Restorations
Partnered with Union County's Best Specialists
Digital Impression System for the Perfect Fit
What Is a
Dental Implant?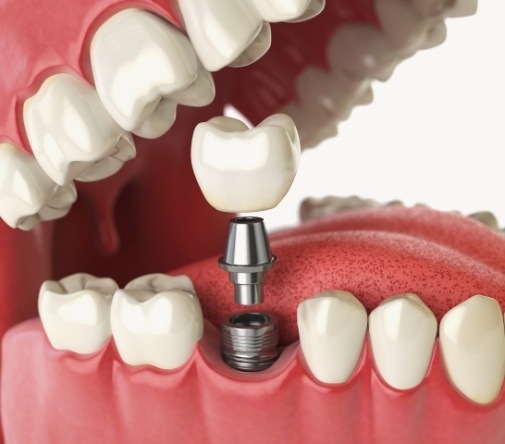 Unlike a traditional denture or bridge, which rests on top of the gums' surface, dental implants resemble the structure of a natural tooth from the root up. When the implant post is surgically placed in the jaw bone, it acts just like a tooth root and promotes new jaw bone growth. The abutment piece is a connector that holds the restoration on top in place. Finally, the restoration completes the look of the missing teeth and allows you to bite, chew, and smile just as you did before tooth loss.
Benefits of
Dental Implants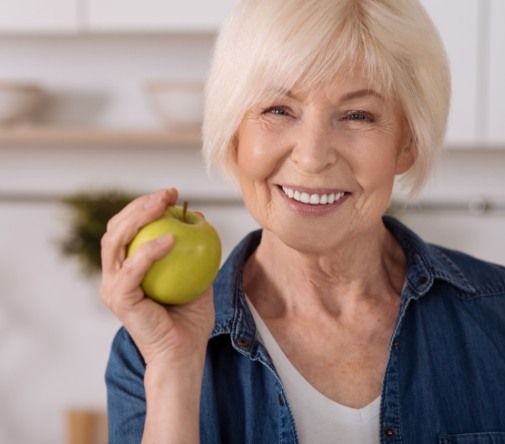 When your replacement teeth are supported with dental implants, you can enjoy many unique advantages, including greater stability. While dentures rely on suction or clasping onto existing teeth, dental implants are embedded in the jaw bone and are therefore much more secure. This means that you don't have to worry about your replacement moving at all when you talk or eat, and you can bite with nearly the same force as you had before. Implants also draw nutrients to the jaw bone, helping it retain its youthful shape instead of withering away as is typically the case with tooth loss. In addition, dental implants have a much longer lifespan than unsupported restorations, lasting decades longer without the need of replacement.
Are Dental Implants
Right For Me?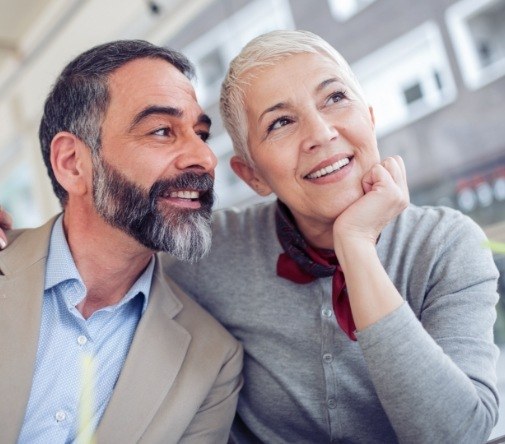 To qualify for dental implants, you simply need to be in good oral health and have the requisite jaw bone density. However, even if you need additional procedures, such as a bone graft or gum disease therapy, we can arrange for that treatment and prepare you for dental implants.
Missing One Tooth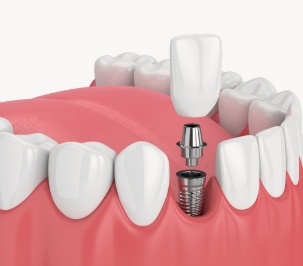 While a dental bridge depends on the surrounding teeth for stability, a single dental implant is anchored to the jaw bone. It replicates the natural tooth structure and is restored with just one dental crown, enabling you to keep your other teeth whole and healthy for longer.
Missing Multiple Teeth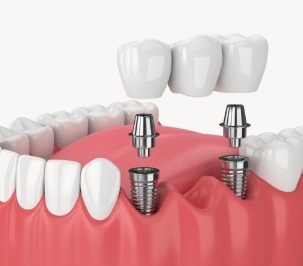 Whether your lost teeth are neatly in the row or are spread out in the arch, we have options that can complete your smile. Instead of being bonded to existing teeth, a dental bridge can be attached to two dental implants, as can a partial denture, putting less wear on these healthy teeth.
Missing All of Your Teeth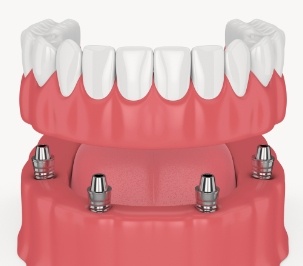 Have you lost every tooth in your smile or within an arch? Dental implants can still be the right solution for you. In fact, with just four to six carefully placed implants, we can hold your full dentures firmly in position for many years to come.
Implant-Retained
Dentures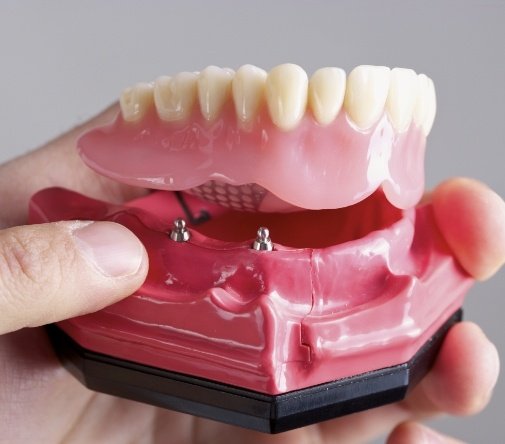 For fully edentulous (without teeth) patients, implant supported dentures offer a sturdier alternative to traditional, removable dentures. Our team offers a number of styles and types of implant supported dentures, including removable and fixed dentures composed of a row of teeth set into a gum colored base or a series of three to four tooth bridges supported by implants for a more natural look and feel. Benefits of implant-retained dentures, especially when compared with traditional removable dentures, include:
Restores chewing ability up to 70%, compared with 10 to 25% for traditional dentures. This allows patients to eat a wide variety of more nutritious foods
Improves overall oral health by stimulating the jawbone and supporting gum tissue volume, as well as facial shape
More natural looking and feeling than removable dentures for superior comfort and self-confidence
Less likely to cause sores, bruises, or other damage to the gums
Provides long lasting results, retaining their shape for ten or more years
The Dental Implant
Restoration Process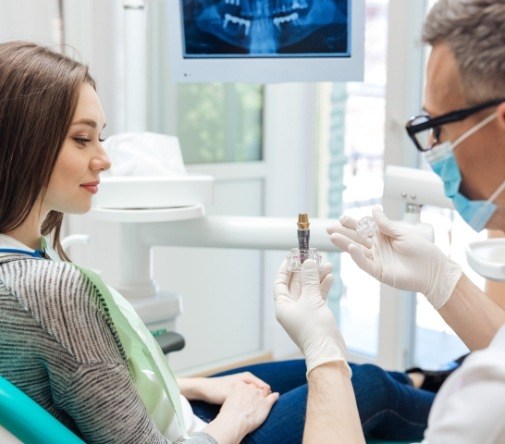 The dental implant process is completed in two phases:
implantation and restoration.
Implantation
During the implantation portion of treatment, we work in partnership with a local oral surgeon who surgically places titanium implant posts into the gum line. Following the placement of dental implants, patients need to wait three to six months to receive their final restoration. During this time, the implant post fuses with the supportive alveolar bone in a process known as osseointegration. Once this process is completed, the dental implant is securely positioned to provide adequate support for a dental restoration.
Restoration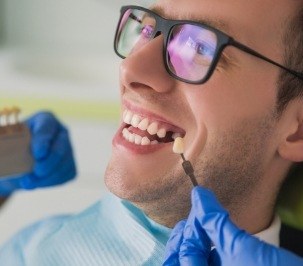 At this point, patients return to our office where we'll affix their restoration. Dental implants are versatile enough to replace any number of missing teeth from a single tooth dental crown to a full arch denture. Depending on the type and position of the restoration, we may be able to offer removable or fixed attachments based on the patient's preference.
Partners with the
Best in Union County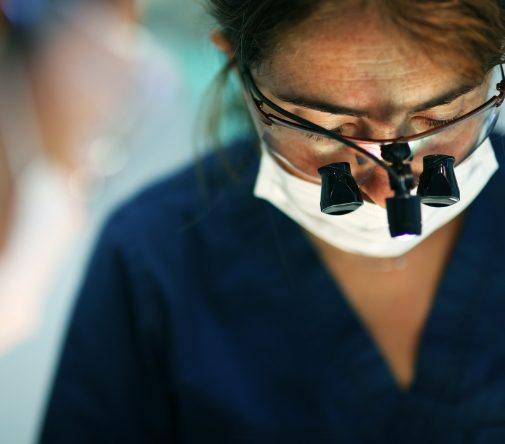 At Darby Creek Dental, we believe in giving our patients the very best care available in dentistry. That's why we collaborate with the area's foremost experts in oral surgery and implant placement. These specialists perform this part of the process in their office, and then you return to ours as soon as the implant posts have integrated with your jaw bone. At that point, we can create your custom restorations.
Understanding the
Cost of Dental Implants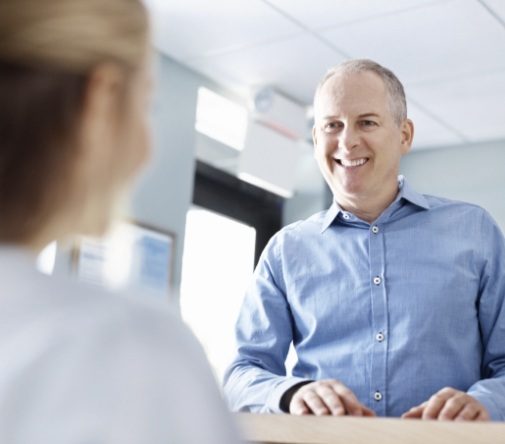 When you compare only the initial cost of treatment, dental implants will come up as the most expensive tooth replacement option. However, every couple of years, unsupported dentures will need to be adjusted or even replaced completely. By ten years at most, a dental bridge would need to be replaced as well. In contrast, dental implants can last for the rest of your life with the proper maintenance, meaning that you could be saving money in the long term.