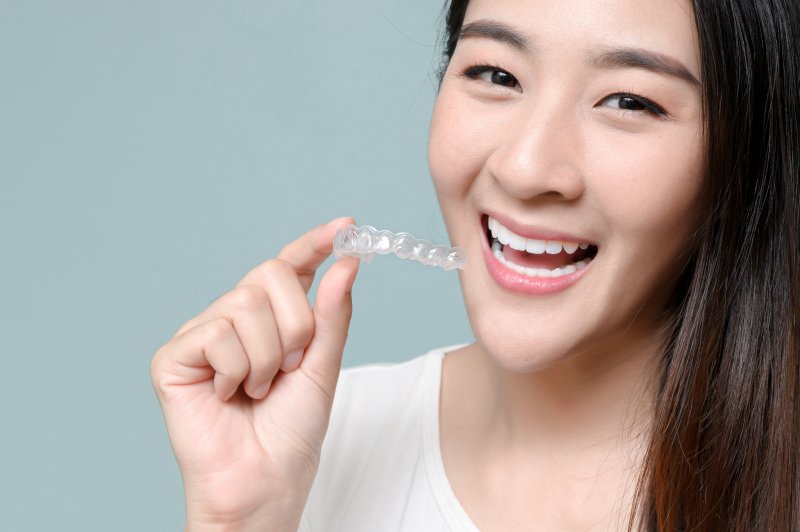 Everyone who has, or had, traditional metal braces knows that there's a learning curve when speaking with them. However, can the same be expected with Invisalign? It's a valid concern to have as a speech impediment can be a dead giveaway of orthodontic treatment. And for most people, that defeats the purpose of wearing clear aligners. Read along to find out how Invisalign affects the way you speak and ways to reduce any impediments.
How Does Invisalign Alter Speech?
Invisalign involves using a series of clear aligners to shift your teeth into their desired position. Since the trays are so thin, they will have a very minor impact on your speech. During treatment, you may experience the following impediments:
A slight lisp. When you wear your clear aligners for the first time, you might notice a slight lisp. It will be most evident when making the "s", "sh", or "z" sounds. However, the impediment is so minor that it's often only noticed by the wearer and not by anyone else.
An altered speech style. After starting treatment, you may initially speak more slowly and slur words. Some patients find talking awkward since it takes more work to speak quickly and enunciate. That's largely because you're not used to having something in your mouth that restricts movement – it will eventually go away once you adjust!
How Can I Get Rid of a Speech Impediment?
The secret to reducing a speech impediment? Practice, practice, and more practice! Fortunately, any speech alterations with Invisalign usually go away within a few days of starting treatment. But while it may be your first instinct to speak as little as possible to hide an impediment, frequent talking is the only way to resolve the issue more quickly.
Try practicing the pronunciation and enunciation of words or sounds that you're struggling with to overcome a lisp. Reading aloud and having more conversations with friends or family members are also great ways to help you adapt to your new aligners.
How Long Will I Have a Speech Impediment?
If you developed a speech impediment after starting Invisalign treatment, don't worry – it's a common problem among most patients! As mentioned before, speech alterations can be corrected within just a few days of wearing the aligners. However, if your speech hasn't returned to normal after several weeks (even with lots of practice), then it could indicate a problem with the treatment. Contact your dentist right away to determine the underlying issue.
In short, yes – Invisalign can affect the way you speak. But these alterations do not last long and can easily be corrected by following the tips highlighted above. Soon, you'll have a beautiful, straight smile to show off all your hard work and effort!
About the Practice
Our team at Darby Creek Dental makes good oral health our number one priority. From the moment you walk into our office until your final check out, we will provide you with exceptional service and care that goes beyond your expectations. We offer Invisalign for patients who want to enhance their smile without the hassle of metal wires and brackets. For more information on how treatment will affect your speech, visit our website or call (937) 644-8822.