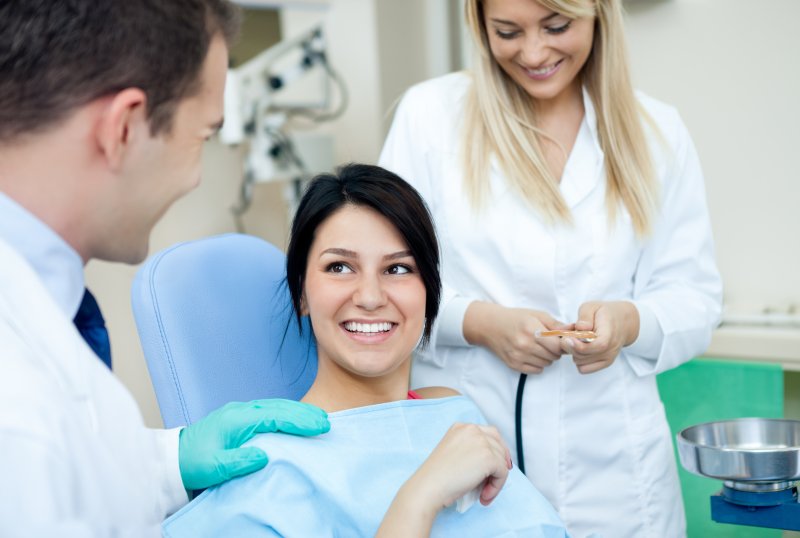 Modern cosmetic dentistry is remarkably advanced, capable of addressing just about any issue you could be having with your smile. However, considering how expansive the field is, you might have trouble knowing where to start with your dentist at a cosmetic dental consultation.
When dentists talk about aesthetic issues with teeth, there are a few things that they tend to look for. Knowing what they are can give you an opportunity to communicate more effectively with your dentist, which could improve the final results of your treatment. Here are some terms you can use to talk about your teeth with your cosmetic dentist.
Smile Arc
Your smile arc is the formal term for the space between the maxillary gum line and the incisal edge, i.e. your gums and the tip of your teeth. When you have a crooked smile or "buck teeth," the shape of your smile arc tends to be affected. If you're unhappy with how your front teeth look when you smile, your dentist may recommend veneers or Invisalign treatment to fix misalignment.
Cant
Cant is the "slant" of your teeth, either forward or backward. Ideally teeth should be straight up and down, though a small variation in cant is fairly normal.
However, teeth that have excessive cant in either direction can be unattractive, as well as harder to clean or chew with. Most dentists will recommend some kind of orthodontic treatment to deal with this issue.
Dental Midline
Your dental midline is the gap between your two front teeth, and you could describe it as the center of your smile. Typically, this dental midline should be about even with the center of the rest of your face, i.e., the tip of your nose.
However, some people's dental midline can be splayed off to one side, and others have one tooth close to the center of their face. Veneers can be enormously helpful for people like this by allowing the dentist to reshape your teeth, adjusting the position of your dental midline.
Now that you know a little more about how to talk to your dentist, you're all the more prepared for your cosmetic dental consultation. Keep these terms in mind, and you'll have the smile of your dreams in no time!
About Our Practice
At Darby Creek Dental, we're happy to help patients of all ages get the smiles they deserve. We have three experienced doctors on staff, as well as a team of incredible dental staff that will take the time to get to know you on a personal level. That means we can guarantee that you'll not only feel comfortable, but get the highest quality of dental care that the field has to offer.
If you're interested in getting a more beautiful smile, we can be reached at our website or by phone at (937) 644-8822.