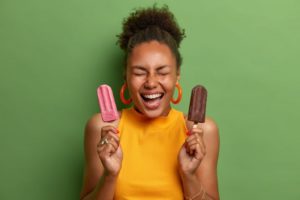 Ah, summer is about to arrive, and it will be time to enjoy all that it brings! From fun outings to the beach to backyard barbeques with loved ones, there are plenty of special memories to make. However, in the midst of your summer fun, it's important to be mindful of how certain activities can impact the health of your smile. Read on to learn three common summer activities that can harm your smile and how to protect it.
#1. Drinking Sweet Beverages
During the summer heat and fun, it's easy to reach for sugary drinks such as sports drinks, lemonade, fruit juices, and cold sodas. While certainly delicious, these beverages have high amounts of sugar that can impact the health of your smile. The bad bacteria in your mouth feed off the sugar, which then produces harmful acids that penetrate your tooth enamel. Unfortunately, this can lead to an increased risk of tooth decay and cavities.
While it's okay to enjoy these beverages in moderation, just be mindful of how much you are drinking throughout the week. Instead, opt for water as often as you can since it's best for your smile and your body! When you do indulge in a sugary beverage, you can protect your teeth by using a straw or drinking quickly. Afterward, rinse your mouth with water to wash away any remaining sugars.
#2. Enjoying Icy Treats
What represents summer more than popsicles and snow cones? These tasty summer staples are easy ways to cool down in hot weather. Unfortunately, if you suffer from tooth sensitivity, it can cause discomfort. Additionally, sensitive teeth can be an indication of cavities or exposed tooth roots, which are caused by tooth decay.
If you have noticed consistent sensitivity, be sure to visit your dentist as soon as you can so they can treat the underlying reason. In the meantime, avoid using hard-bristled toothbrushes, foods that can damage the teeth (such as hard candy, nuts, and ice cubes), and steer clear of whitening toothpaste.
#3. Playing Seasonal Sports
Summer fun often includes a lot of outside time, soaking up the sun while doing fun activities. Sports such as swimming, biking, rollerblading, and baseball are traditional summer sports but can place your oral health at risk if you're not careful. An unexpected hit to the face can easily lead to tooth or gum injuries.
The key to protecting your smile during summer physical activities is by wearing a mouthguard. This will minimize any damage to the mouth and jaw if an injury were to happen. Your dentist can give you a customized mouthguard for optimal comfort and protection. By keeping your smile safe, you can freely enjoy all that the summertime has to offer!
About the Practice
Darby Creek Dental is eager to help you keep your smile whole, healthy, and beautiful all throughout the year! Through the expertise of their team of dentists, they offer a comprehensive range of services, including preventive and emergency care. Through the use of advanced dental technology and customized plans, they can assist you with any of your oral health goals and needs. To schedule an appointment, visit their website or call (937) 303-8901.