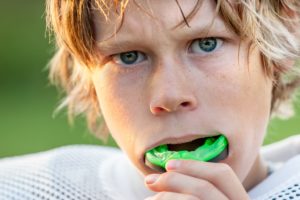 You wouldn't play football without wearing a helmet. Yet many people play sports without protecting their teeth with a sports guard. Also known as a mouthguard, it's a device worn over the teeth to protect them from dental emergencies during physical activities. You could get a cheaper one from a pharmacy or sporting goods store, or you could invest in a custom-made mouthguard from your dentist. Which is better for you? Let's take a closer look at both.
Over-the-Counter Mouthguards
These sports guards are meant to be one-size-fits-all. However, that often means that they won't provide as snug a fit against your teeth, and won't provide as much protection from injuries. You can buy them ready to go, or you can try a "boil and bite" method for a slightly better fit. This method involves placing the mouthguard in boiling water for a certain amount of time in order for the plastic to become soft and pliable. The mouthguard is then removed from the water and gently bitten down onto, so it molds to the shape of the athlete's teeth.
Because they are available in stores and designed to be used by anyone, generic mouthguards are pretty cheap. However, they don't last as long or give as much protection as custom-made sports guards.
Custom-Fit Mouthguards
When you ask your dentist for a custom-made mouthguard, he or she will use a special mold to create an impression of your unique bite. This is a much more individualized approach. Because the plastic is thicker and fits more snugly against your teeth, it is much more suitable for contact sports as it provides a lot more protection. They are also intended to last much longer. The only downsides are that they can be more expensive, and they require an appointment with your dentist. However, it is well worth the investment by preventing an emergency visit with your dentist if you knock out or break a tooth during a sports game.
As you can see, getting a custom-made mouthguard from your dentist is clearly the better choice. If you're into sports, or any physical activity that could damage your teeth, ask your dentist about a mouthguard.
About the Practice
At Darby Creek Dental in Marysville, OH, we help patients of all ages smile a little brighter. We offer only the latest and greatest technology that modern dentistry has to offer. our talented team of doctors bring a variety of skills to the table, so we can meet most of your smile needs under one roof. To learn more about getting a mouthguard that's right for you, contact us at (937)-644-8822.