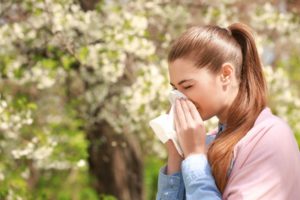 While the brightness and warmth of spring are always a welcome time after wintertime, it can also mean having to put up with seasonal allergies. Unfortunately, these common irritants can not only impact your overall well-being but your oral health too. Read on to learn more about how seasonal allergies affect your oral health and how to keep your smile in top condition during this time of the year.
First Things First: What Are Seasonal Allergies?
Generally, seasonal allergies affect people during the spring and fall months. Grass and trees begin to pollinate during these times of the year, which results in leaving irritants in the air that negatively impact some people. Ragweed pollen is normally the main culprit, although dust mites and mold can have the same effects.
How Seasonal Allergies Affect Oral Health
Allergies can lead to oral health issues, such as:
Tooth Pain: Seasonal allergies can lead to increased aches and pains in the face due to the fact that irritants cause the sinus cavity to fill up with mucus. Since your sinuses are located close to your mouth, they can push down on the roots of your molars, increasing tooth pain, discomfort, and sensitivity.
Dry Mouth: Increased mucus causes you to be stuffed up, making it more difficult to breathe. As a result, it's a natural tendency to begin breathing through your mouth to get the oxygen that your body needs to function. This can result in a dry mouth, decreasing the production of saliva, which helps to keep your teeth clean. A dry mouth can lead to developing cavities, gingivitis, and bad breath.
Sore Throat: Post-nasal drip can cause your throat to be sore. Not only is this uncomfortable, but it can cause you to develop bad breath.
How Can You Maintain a Healthy Smile During Allergy Season?
Fortunately, there are some steps you can take to protect your smile from seasonal allergies. Try implementing these tips to maintain excellent dental health:
Stay Hydrated: Drink enough water every day to keep your body and mouth hydrated.
Gargle with Saltwater: By gargling a mixture of warm water and a teaspoon of salt, you can free your mouth and throat from harmful bacteria and throat. This mixture also draws mucus out of your sinuses.
Maintain a Consistent Oral Health Routine: Brushing at least twice a day and flossing daily will help offset any negative impacts on your teeth and gums from allergies.
Visit Your Dentist: By maintaining your biannual checkups and cleanings, your dentist can help keep your teeth in top condition as well as catch any issues before they become more serious.  
Even though your seasonal allergies can be hard to handle, you don't have to let them negatively impact your smile. With these helpful tips, you can get through the season while also maintaining excellent oral health!
About the Author
Darby Creek Dental keep the smiles of Marysville healthy and beautiful through the expertise of their team of dentists. With decades of combined experience, they offer a comprehensive range of services to help you achieve optimal oral health. They use advanced dental technology and customized plans to meet any of your dental needs or goals. To schedule an appointment, visit them through their website or call (937) 303-8901.