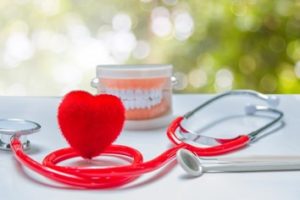 In February, many hearts are filled with love. But one thing that many don't consider is the number of hearts that are at risk of infection because of their dental health. This Heart Health Month, there is also a focus on your dental hygiene. Keep reading to learn what connects your oral health to your heart and how you can minimize your risk of developing heart conditions.
The Tie Between Dental Health and Heart Issues.
After more than a decade of research, studies show that the connection between dental infections and heart disease is how the bloodstream acts as transportation for bacteria. Harmful bacteria can build up and lead to dental infections like abscesses and gum disease. An abscess is a puss-filled sack that develops at the tip of an infected tooth or in the gums to the side of the infected tooth. Gum disease is the result of microbes and plaque forming an infection beneath the gumline that causes your gums to swell and bleed. If left untreated, it will eventually lead to your gums pull away from your teeth. When your gums bleed or an abscess dissolves into the body, infection can spread anywhere in your body.
How Dental Infection Causes Heart Issues
Two heart issues that have been found to be caused by oral bacteria are coronary heart disease and infective endocarditis. Heart disease is the buildup of cholesterol deposits in the arteries that reduce blood flow over time. This condition develops when bacteria find their way through the bloodstream to the heart's valves and causes infection. An infection that occurs in the heart valves or the lining of the interior surfaces of the heart (endocardium), it is called infective endocarditis. Studies show that individuals with gum disease are 2 to 3 times more likely to fall victim to a stroke or heart attack than those with healthy gums.
How You Can Protect Your Heart
Heart conditions cannot always be avoided, but you can reduce your risk of developing them by taking proper care of your teeth. Flossing every day, brushing your teeth for two minutes twice a day and visiting your dentist on a regular basis will all help keep your mouth healthy. In addition to increasing your risk of oral cancer, smoking causes the blood flow to your gums to slow. This minimizes their ability to fight off infection, so kicking your nicotine habit is a good idea as well.
A healthy heart starts with healthy teeth. So, while it can be easy to focus chocolates and flowers this month, be sure to stay wary of your oral health. Making sure you have a great dental care routine will help keep both your heart and your smile healthy.
About the Practice
The team of dentists at Darby Creek Dental works together to provide personalized comprehensive dental care to every patient who enters their doors. The combined years of dental experience and knowledge held by Drs. David Cleveland, Deric Budendorf and Kyle Wylde allow Darby Creek Dental the ability to provide an experience unlike any other dental office. If you're ready to achieve the healthy smile you deserve, contact the office at (469) 343-1212 or visit the website to schedule your appointment today.