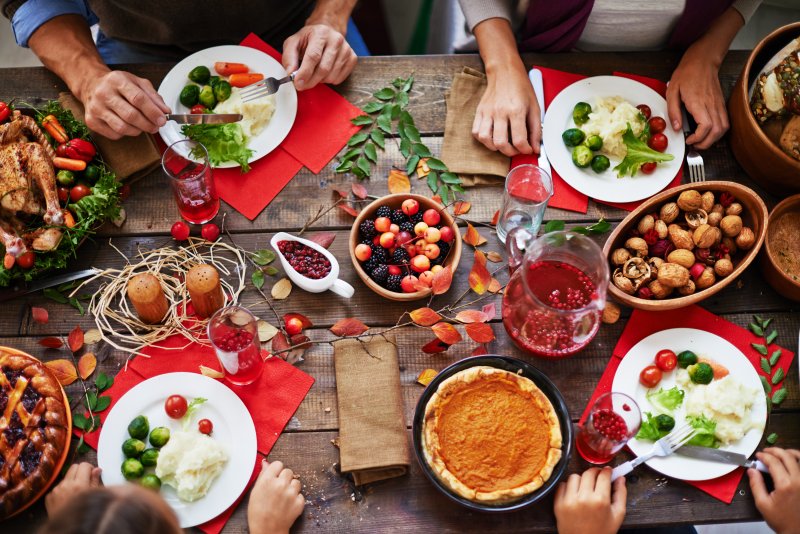 It's Thanksgiving Day, and you and your family are set to host close relatives who will be arriving in only a few short hours. When looking at all the delicious food spread out on your table, you begin to wonder which ones might hinder your oral health. Is it the sweet potato casserole, turkey, or cranberry sauce? Could your mom's famous pecan pie put you one step closer to needing a dental filling? The reality is that although these foods are some of the most delectable, they can be the worst when it comes to your teeth and gums. Read on to learn what you can do to minimize the potential for a dental visit this holiday season.
Why Are Holiday Foods Bad for Your Oral Health?
No one wants to be told to forgo their grandma's brown sugar sweet potatoes or their mom's pumpkin pie, but the truth is that so many of the foods you love to eat during the holidays are packed full of harmful sugars and starches. As a result, they can make it easier for bacteria to build and eat away at your tooth enamel. Instead of enjoying time spent with family and friends, you may just find yourself in the presence of your dentist and needing a filling, crown, or even a root canal.
Apart from the contents found in these dishes, here are a few other reasons holiday foods can cause problems for your smile:
You snack all day. When you're busy eating throughout the day, you don't give your salivary glands a chance to thoroughly wash away any bacteria that is building inside your mouth.
You brush off your normal schedule. If you're traveling for the holidays, you're more likely to forgo your regular oral hygiene routine in favor of staying up late to play games and watch movies.
You trade water for alternative beverages. If the holidays make you want to break open a bottle of wine, you can expect it to not only dry out your mouth but also make you more susceptible to gum disease and tooth decay.
Ways to Protect Your Teeth This Holiday Season
If the idea of spending your hard-earned money on necessary dental treatment doesn't sound like your idea of fun, it's time to consider what you can do to keep your teeth in optimal condition and decay- and disease-free this year.
You can:
Drink plenty of water to help keep your mouth wet and your salivary glands working at an optimal level.
Avoid teeth-staining foods and beverages (i.e. soda, coffee, red wine, berries, tea).
Minimize (or avoid) sugary and starchy foods that can cause tooth decay and gum disease.
Maintain a regular oral hygiene routine of brushing twice a day, flossing at least once a day, and rinsing with an ADA-approved mouthwash.
Consume healthier foods like turkey, fresh cranberries, cheese, vegetables, milk, nuts, dark chocolate, and mashed potatoes.
Limit your food intake throughout the day. Try to eat only at designated mealtimes.
See your dentist before the holidays to ensure your oral health is in good shape.
By following these tips, you can expect a smile that will carry you through the holiday season.
About the Practice
When it comes to taking proper care of your teeth and gums, Darby Creek Dental is here to help. Our team of experienced doctors and expert team members offer a wide range of dentistry services to meet your dental needs. From preventative checkups to advanced restorative care, we'll take care of your entire family in one location! We'll even provide helpful tips to get you through the holiday season, ensuring you and your family don't end up suffering from cavities or gum disease as a result of the many delicious foods found on your table. If you would like to avoid the potential for a dental emergency, contact us at (937) 644-8822.