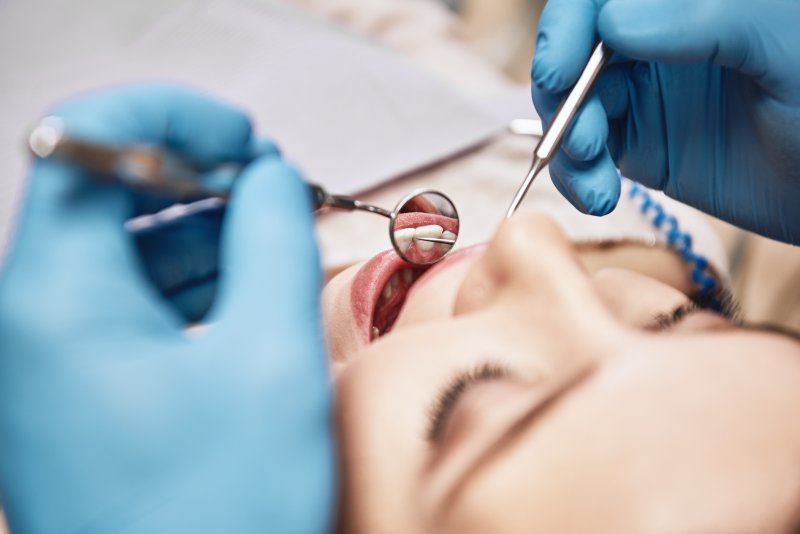 As you turn into your dentist's parking lot, you find yourself thinking of all the times you were "just too tired" to brush your teeth. That combined with the weeks on end of neglecting to floss has you thoroughly convinced they are going to find a handful of cavities as soon as you open your mouth. However, after your dentist completes your exam, they pull away to inform you that you may have the other c-word, "cancer."
According to the Oral Cancer Foundation, the number of cases is expected to rise again with an estimated 53,000 patients being diagnosed this year alone. Therefore, it is more important now than ever that you see your dentist bi-yearly for a routine examination. Read on for what an oral cancer screening entails, the importance of early detection, and how often you should have one!
What Is an Oral Cancer Screening?
Simply put, an oral cancer screening is a portion of your dental exam that looks for signs of cancer or precancerous symptoms in your mouth. During your routine visit, your dentist will check for abnormal indicators, like red or white patches, mouth sores, or lumps in your neck or throat. While your dental team takes the time to conduct a brief oral cancer screening at every appointment, these examinations are especially important for patients who have a previous oral cancer diagnosis, use tobacco products, or have a history of significant sun exposure.
Importance of Early Detection
Like most forms of cancer, early detection and intervention are beyond crucial. In fact, the survival rate jumps up to 81% if mouth cancer is diagnosed in the early stages. However, if neglected or overlooked, it drops to roughly 45%. Therefore, it is of the utmost importance that you visit your dentist on a bi-yearly basis to ensure that the overall health of your mouth is consistently being evaluated by a professional.
How Often Should I Have One?
According to the American Dental Association, patients should get an oral cancer screening annually. However, erring on the side of caution and visiting your dentist twice a year for a thorough dental exam is beneficial. If you have any questions about your oral cancer screening, don't hesitate to ask your dentist to walk you through it at your next visit.
For decades, routine visits have played a crucial role in keeping your teeth and gums in tip-top shape. However, with the prevalence of oral cancer continuing to rise, it is of the utmost importance that you prioritize your routine visits to your dentist. That way, you can have peace of mind knowing your oral health is in pristine condition!
About the Practice
At Darby Creek Dental, each member of their talented team is united by their mission to create an experience centered around you! That is why they use advanced dental technology, offer early and late appointments, and go above and beyond to exceed your expectations at every appointment. If you are overdue for your bi-yearly visit, then don't hesitate to visit their website or give them a call at 937-644-8822.