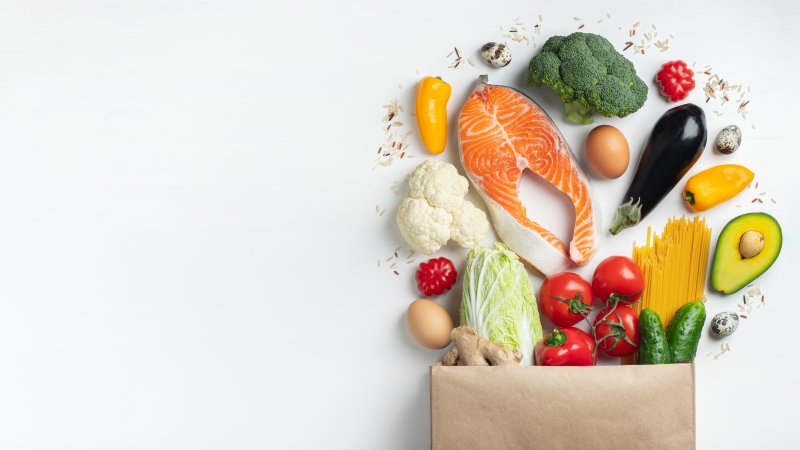 Did you know that caring for your teeth involves more than just proper dental care? Your dietary patterns and food choices also play an essential role in maintaining good oral health. Following a healthy diet and being conscious about what you consume can do wonders for your mouth and body. Read along to find out which foods can benefit your teeth and gums the most.
How Does Food Affect Oral Health?
Consuming sugary, starchy, and processed foods is just as bad for your oral health as they are for your body. Bacteria like to feed on residual food and produce harmful acids that damage the teeth. By limiting your consumption of sweet treats, you can lower your risk of decay, cavities, and even gum disease.
Conversely, eating nutritious foods like whole grains, fruits, and vegetables can contribute to a healthy mouth. Crunchy fruits and veggies are especially beneficial because they require more chewing, which increases saliva production, and helps remove leftover food particles from your teeth.
Nutritious Foods That Benefit Your Smile
Eating the right foods can strengthen your teeth and keep your mouth free of bacteria and harmful acids. The following options benefit not only your smile but your body as well.
Dairy Products
Cheese, plain yogurt, and milk are some of the best foods for your teeth. Dairy products encourage your mouth to produce more saliva, which naturally cleanses your teeth. Plus, they're high in calcium and protein, both critical elements that help keep your teeth and bones strong. If you're allergic or sensitive to dairy, try finding calcium- and protein- fortified alternatives (i.e., almond, soy, or cashew milk).
Vegetables
Leafy greens like kale, spinach, chard, or collard greens are packed with vitamins and minerals that keep your mouth healthy. They're low-calorie and rich in calcium, folic acid, and B vitamins, meaning you can eat as many as you want, and it'll benefit your health!
Crunchy, firm veggies like celery and carrots stimulate saliva production, which helps scrub away food particles and bacteria. In addition to being nutrient-dense, carrots are also a great cavity-fighting vegetable.
Apples and Pears
Fibrous fruits like raw apples and pears can help clean your teeth and increase salivation, which neutralizes acids in your mouth. Also, the act of chewing stimulates your gums, thereby reducing cavity-causing bacteria and increasing saliva flow. Fresh apples are a tasty way to satisfy your sweet tooth without putting your smile at risk!
Nuts
Most nuts are jam-packed with essential elements like calcium and phosphorous. Almonds, however, are especially beneficial because they help ward off bacteria that lead to tooth decay. They're a good source of calcium and protein while being low in sugar, making them an ideal snack that benefits your teeth.
As you can see, eating a well-balanced, nutritious diet is one of the best things you can do for your smile. Now that you know which foods benefit your oral health, you can make the right choices that will keep your mouth and belly happy!
About the Practice
At Darby Creek Dental, we provide comprehensive, top-tier, personalized services that the entire family can enjoy. Our team comprises skilled dental professionals who have the clinical expertise, knowledge, and experience to help you meet all your oral health needs. For more information on how to keep your smile in optimal condition, visit our website or call (937) 644-8822.