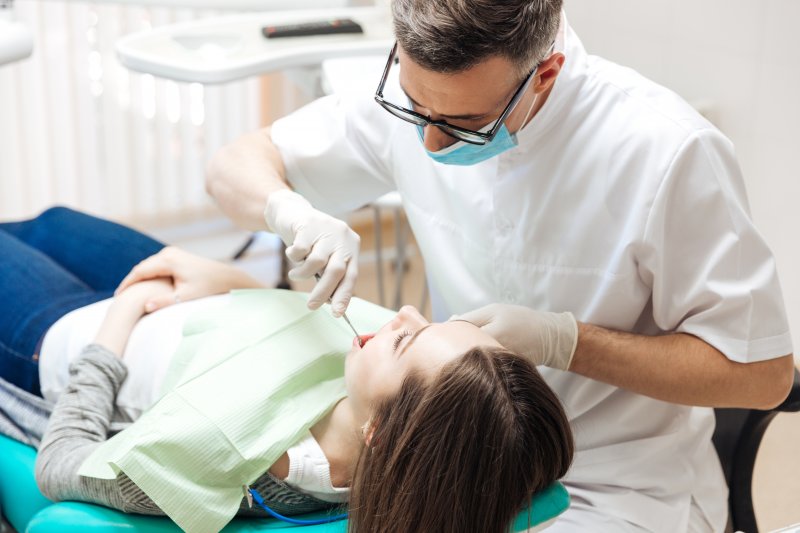 All too often, patients dismiss their biannual dental checkups and cleanings as nothing more than a quick sweep for cavities. In reality, these routine appointments play a much bigger role in both your oral and overall health. In fact, with over 90% of serious health concerns having oral symptoms, your dentist may be the key to early detection. Keep reading to learn four non-dental issues your dental team may find first!
#1. Diabetes
Increased thirst, frequent urination, and extreme hunger are three common symptoms of diabetes that often fly under the radar. Fortunately, there are other indications, like receding gums, dry mouth, and wiggly teeth, which your dentist will notice immediately upon conducting an oral exam. If these warning signs are in conjunction with other red flags, then they will share their findings with you and recommend you visit your primary care doctor for a blood test.
#2. Oral Cancer
Oral cancer often doesn't get much recognition, but it is the sixth most common cancer in America, according to the Oral Cancer Foundation. While that statistic may initially be sobering to learn, it is important to know that the survival rate is over 80% with early detection. That's why your dental team checks for white and red lesions on the floor of your mouth, your tongue, and the soft tissue in your mouth during your six-month dental checkup.
#3. GERD
GERD is often put on a patient's radar when they begin to experience symptoms of heartburn. For others, however, the condition goes undiagnosed since the flare-up happens as they sleep. Luckily, your dentist can help you get treatment sooner rather than later by detecting enamel erosion from exposure to stomach acid.
#4. Extreme Stress
Despite popular belief, stress can be beneficial in boosting motivation, increasing immunity, and making you more resilient. With that being said, extreme, unmanageable stress can definitely take an unhealthy, negative toll on your overall health. In response, you may begin to unintentionally grind your teeth, which can wear down and chip your enamel. The good news is that learning to better manage your stress and using a custom nightguard can help protect your teeth and your overall wellbeing.
While your dentist's main priority is ensuring your teeth and gums are in pristine condition, that doesn't mean they can't play a crucial role in protecting your overall health in the process. So, the next time you are considering skipping your biannual dental checkup, keep the above information in mind!
About the Practice
At Darby Creek Dental, each member of our team is united behind our mission to provide quality dental services, compassionate care, and an all-around experience that exceeds your expectations. Equipped with the latest technology, we are here to ensure both your oral and overall health are in good condition – loving your beautiful smile is the cherry on top! To learn more about non-dental health concerns we can detect or schedule an appointment, visit our website or give us a call at 937-644-8822.