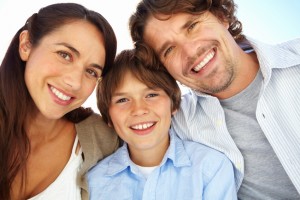 Hello, and welcome to Darby Creek Dental's brand new blog! Subscribe to stay informed with the latest information regarding your oral health and to receive periodic updates on our practice, too. Let's start off with a snapshot of our services and what you can expect from your Marysville family dentist!
Keep Your Family Smiling With Quality Dental Care
You and your family already share so much — there's no reason you shouldn't trust the same dentist, too. With a range of services fit for smiles of all ages, family dentists increase convenience and make maintaining good oral health easy. Our team of four passionate, experienced dentists is proud to offer the following services for patients in Marysville and surrounding areas.
Preventive Care
It's always best to stop problems before they start, and that's why preventive dentistry is the best way to keep smiles healthy for a lifetime. Our team emphasizes excellent preventive care by providing regular checkups and cleanings, periodontal therapy, mouthguards and hygiene education for patients of all ages. Children can benefit from fluoride treatments and dental sealants, too.
Cosmetic Procedures
At Darby Creek Dental, we believe your healthy teeth should also sparkle — and services in cosmetic dentistry give you the smile you've always dreamed of. Whether it's a quick whitening treatment or something more transformative, like porcelain veneers or a complete smile makeover, you can find everything you need for dazzling teeth at Darby Creek Dental.
Restorative Dentistry
When decay, damage or infection get in the way of your healthy smile, you can find the restorative care you need at Darby Creek Dental. Our caring doctors and experienced staff will help you understand your best options for restoration and then get you smiling again in no time. We offer fillings, crowns, bridges, root canal, dentures, implant restoration and even full mouth reconstruction.
Functional Therapy
Patients often don't realize their headaches, snoring and other chronic problems are actually caused by their improperly aligned teeth. Darby Creek Dental offers therapy to help you overcome these functional issues and live without pain once again. TMJ therapy, mouthguards and snoring treatment are all available from our practice.
The Comfortable Care You and Your Family Will Love
Visiting the dentist doesn't have to be a stressful experience. At Darby Creek Dental, our team has cultivated a calm, welcoming environment to soothe your senses and relieve your anxieties from the minute you walk through the door. We also offer conservative anaesthesia for your complete safety and comfort.
If you're ready to benefit from a caring, wonderful dental team, don't wait to schedule your appointment at Darby Creek Dental!
Schedule your appointment with the dentist in Marysville today.