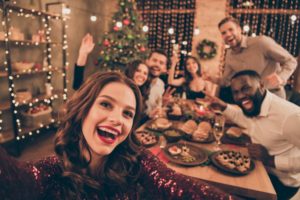 As the weather begins to cool off and the leaves start changing color, most of us are looking forward to the upcoming fall and winter holidays. It's the best time of year for spending time with loved ones, keeping up traditions or making new ones, and being grateful. However, with all the seasonal treats and holiday flavored goodies, it's also a tough time of year for your oral health! Thankfully, a few simple habits and precautions can help keep your smile strong and sparkling. Your Marysville dentist shares six tips for maintaining happy, healthy pearly whites well into the new year.
1.) Make Time for What's Important
During the hustle and bustle of the holiday season, don't put your daily dental habits on the backburner! Make sure you're still taking the time to thoroughly brush and floss your teeth every day to keep a wide range of oral health issues at bay.
2.) Avoid Foods on the Naughty List
As you choose which holiday sweets and festive meals you indulge in, remember that some foods are worse for your teeth than others, such as:
Hard foods, which can weaken your teeth.
Sticky treats, which can damage dental fillings and crowns.
Sugary drinks, which burn through your enamel and increase risk of tooth decay.
3.) Choose Smile-Friendly Snacks
Thankfully, there are plenty of foods that you can eat this time of year that will improve your oral health! Choose foods with calcium, phosphorus, and vitamin C to strengthen your teeth and encourage healthy gums. Fiberous vegetables can also help prevent cavities.
4.) Limit Your Alcohol Intake
Alcohol is highly acidic, so it can dramatically weaken your enamel very quickly. This leaves your teeth more vulnerable to discoloration, damage, and decay. What's more, alcohol slows down your healing process, which can leave your gums more susceptible to infection.
5.) Seasonal Safety Tips for Your Teeth
No matter how excited you are to rip open a package, letter, or other container, never use your teeth! Using your teeth as tools may save you a moment or two, but it could cost you much more time and money if you damage a tooth! Always use the proper tools instead.
6.) It's the Time of Year to Visit Your Dentist
Have you seen your dentist twice this year? If it's been more than six months since your last checkup, now is the perfect time to give them a visit. Routine dental checkups and cleanings are key for preventing and treating oral health issues that could otherwise interrupt your holidays with a dental emergency.
As you enjoy this special time of year, don't forget about your oral health. These simple but effective tips are a great way to keep your smile healthy all year long!
About the Practice
At Darby Creek Dental, our goal is to help smiles of all ages in Marysville achieve and maintain optimal oral health. We're proud to offer a comprehensive menu of dental services performed with the latest dental technology for maximum efficiency and comfort. To make oral health care even easier, we also offer early and late appointments and accept numerous dental insurance plans. For more information, we can be contacted via our website or at (937) 644-8822.