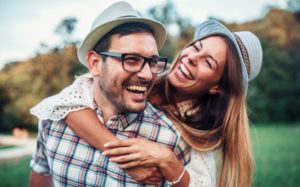 Valentine's Day is approaching and that means love is in the air! With Valentine's Day near, you may be wondering how your dating life will be affected by your new Invisalign treatment. While the clear removable aligners are very discreet and convenient, they can still impact a social situation. Fortunately, there are steps you can take to make it as smooth as possible. Here's what you should know about dating and Invisalign.
How Can Invisalign Impact Your Dating Life?
Here are some factors to consider when romance meets Invisalign treatment in your life:
It Gives You More Confidence
Having a smile that you are not proud of can negatively affect your self-esteem, making you feel too self-conscious to freely talk or laugh. Invisalign is an amazing treatment to fix crooked or misaligned teeth and give a boost of confidence. Once your orthodontic treatment is complete, you will have a beautifully straight set of pearly whites that you'll confidently show off on every date!
It May Slightly Alter Your Speech
You may find it difficult to speak clearly when you first get Invisalign. But have no worries! Most patients tend to develop a temporary lisp when they wear clear aligners for the first time. The good news is that with practice, you will get rid of it sooner than later. By reading aloud and having conversations with loved ones, you are sure to get rid of any speech alterations.
It Puts You at Risk of Bad Breath
One of the most common complaints about Invisalign is that the removable aligners give you bad breath. Fortunately, this can be avoided by regularly cleaning them. The key is to brush your teeth and trays thoroughly before slipping the trays back into your mouth. This helps to prevent odor-causing bacteria from accumulating on your aligners.
Helpful Tips While on a Date with Invisalign
Do you have a special date for Valentine's Day? Here are a few tips to keep in mind:
Keep your aligners in your mouth. For your treatment to be successful, your aligners must be worn for at least 20 to 22 hours a day. Therefore, you will need to keep them in while on your date. Fortunately, since they are clear, they will barely be noticeable to your date!
Remove your aligners before eating. The only time you should remove your aligners is before eating or drinking anything that's not water. Otherwise, you can damage your trays by causing cracks and stains. If you want to be discreet, you can always go to the bathroom to take them out. Place them in their container and put them in your pocket or purse.
Limit your alcohol consumption. Drinking alcoholic beverages with your aligners in can cause your trays to become discolored. To keep your clear aligners from turning into a shade of yellow or brown, it's best to remove them before socially drinking.
Brush your teeth after eating. Make sure you brush your teeth after every meal right before slipping the aligners back in your mouth. Doing so will help you avoid problems like cavities and decay. And the bonus is that your breath will be extra fresh for your special date!
As you take the road to your new smile with Invisalign, there may be some alterations while you date. However, with a little planning and consistency in the care for your aligners, your love life can stay on track too!
About the Practice
Darby Creek Dental keep the smiles of Marysville healthy and beautiful through the expertise of their team of dentists. Through the use of advanced dental technology and personalized plans, they help you achieve optimal oral health through a full range of dental services. With years of experience and training, they help to make your Invisalign treatment an easy process with complete care every step of the way! If you are interested in learning more about Invisalign, visit their website or call them at (937) 303-8901.