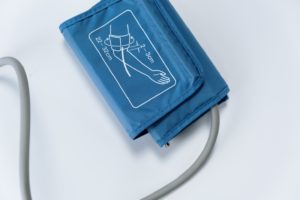 The American Dental Association recommends visiting your dentist every 6 months for a cleaning and checkup to ensure your teeth and gums are healthy. You anticipate your dentist to review X-rays and perform other diagnostic services, but you may not expect them to take your blood pressure. Believe it or not, it can give your dentist a lot of information about your oral and general health. Normal blood pressure for most adults is defined as a systolic pressure of 120 or less and a diastolic pressure of less than 80 (120/80 mm HG). The American Heart Association reports that 122 million adults over the age of 20 in the U.S. have high blood pressure. Here are 4 ways your blood pressure can help your dentist provide you with the best care.
1. High Blood Pressure Can Affect Dental Work
High blood pressure can increase your risk of complications if you need them to work. If you have hypertension and your blood pressure rises too much during treatment, it can increase your risk of a cardiovascular event. Not to mention, heart disease can also affect your body's ability to heal and fight infections, so your dentist may need to take a few precautions to ensure your safety.
2. Local Anesthesia Can Raise Blood Pressure
Certain anesthesias can increase your blood pressure. If you have a history of hypertension, your dentist will monitor you closely while you're sedated to ensure there aren't any adverse complications.
3. Identify Potential Underlying Health Issues
Your physician regularly takes your blood pressure to monitor for any changes. However, your dentist can also use this information to identify potential issues that can affect your general wellness. They can alert you to any changes, so you can take the necessary steps to visit your physician to ensure your heart is healthy.
4. Monitor Your Risk of Gum Disease
Cardiovascular disease and gum disease can go hand in hand. High blood pressure is linked to an increased risk of gum disease, which is a preventable infection that affects at least 50% of adults. Your dentist will create a personalized plan to safeguard your gum health and monitor your mouth to detect signs of infection early.
Don't be alarmed if your dentist takes your blood pressure. It's just another piece of the puzzle they need to support a healthy mouth and body.
About Dr. David W. Cleveland
Dr. Cleveland earned his dental degree from the Ohio State University and has regularly continued his education to provide up-to-date services. He focuses on the mouth and body connection to promote optimal wellness. If it is time for your next cleaning and checkup, request an appointment through our website or call (937) 303-8901.