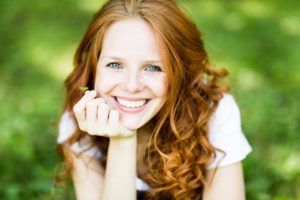 After a long cold winter, spring is in the air. While you enjoy blooming flowers and plenty of sunshine, you're also probably giving your home a good cleaning. However, the kitchen cabinets and bedroom closets aren't the only things that need a little attention. Now is the perfect time to give your teeth a good spring cleaning, and here's how.
Step-Up Your Brushing Routine
Did you know 92% of adults have had at least one cavity in a permanent tooth? Your toothbrush is the most important tool you have to combat tooth decay.
The American Dental Association recommends brushing your teeth at least twice daily for 2 minutes; however, strive to brush after every meal. Use a soft-bristled toothbrush and fluoride toothpaste to clean all surfaces of your teeth.
Don't Forget to Floss
Your gum health is equally important as that of your teeth. Brushing alone won't keep gum disease at bay, which affects at least 50% of adults. Not only is it a leading cause of tooth loss, but the infection is also linked to many health issues, like cardiovascular disease, Alzheimer's disease, and diabetic complications.
Brushing can leave up to 40% of your teeth surfaces uncleaned. Flossing is the only way to clean areas your toothbrush can't reach. Floss your teeth every day to remove plaque and tartar to keep your gums healthy. Your mouth and body will thank you.
Add Mouthwash to Your Routine
A daily mouthwash is an excellent addition to your oral hygiene routine. It will kill any bacteria lingering in your mouth after brushing and flossing. You'll keep odor-causing bacteria under control for fresh breath and healthier teeth and gums.
Schedule a Cleaning and Checkup
Brushing and flossing are important for a healthy smile, but they are only half the care your teeth and gums need. The American Dental Association recommends a cleaning and checkup every 6 months.
Routine dental care stops common issues from occurring in the first place, so you're less likely to need costly procedures later. By preserving your natural smile with preventive dentistry, you can reduce your overall oral health expenses. Research has found that $1 spent on prevention can save up to $50 on restorative services. You'll reach optimal oral health and have a little extra spending money in your pocket.
Your dentist will clean and polish your teeth while examining your mouth to look for anything concerning. You'll head into summer with a beautiful, healthy smile by taking a break from your deep cleaning to give your teeth the attention they deserve.
About Dr. David W. Cleveland
Dr. Cleveland earned his dental degree at The Ohio State University and has regularly continued his education in the latest treatments, techniques, and technologies. He strives to help each patient achieve their best smile through the power of prevention. If you need a cleaning and checkup, request an appointment through our website or call (937) 303-8901.