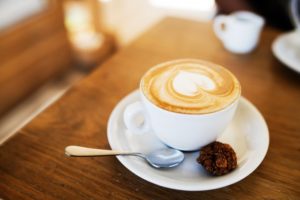 Fall is almost here, and that means it's just about time for pumpkin spice lattes. As comforting as these hot drinks are on cool autumn days, they might not have the same effect on your teeth. Drinks like tea, coffee, and hot chocolate aren't actually that great for your pearly whites. Let's look at what a dentist has to say to answer the question: are hot drinks bad for my teeth?
They Can Stain Your Teeth
It's a fairly well-known fact that coffee and tea can leave behind permanent, unsightly stains in your tooth enamel. Oftentimes these stains are very resistant to teeth brushing and over-the-counter whitening treatments. Green and herbal tea are the least likely to stain your teeth, although they're still likely to cause discoloration. Black tea is the most damaging. If you're going to consume these beverages, do so through a straw. That way, the drink will bypass your teeth and minimize the chances of staining. This is more likely to happen with iced coffee than with hot coffee, but the beverage can discolor your teeth at any temperature. Plus, when it comes to keeping your smile bright, you can never be too careful.
They Can Cause Tooth Decay
Studies have shown that black coffee by itself does not cause cavities. In fact, it may prevent decay due to the high level of antioxidants it contains. However, once you add sugar into the mix, any potential benefits are thrown out the window. Hot chocolate, sweet tea, and pumpkin spice lattes all contain unhealthy amounts of sugar, in addition to being sticky. This makes the sugar stay attached to your teeth for a longer period of time. It then attracts bacteria that wreak havoc on your teeth and create cavities. Again, to prevent this, consume your beverage through a straw.
Just about everyone loves pumpkin spice lattes, whether they want to admit it or not. However, most people don't know how detrimental it can be to their teeth. Now that you do, though, hopefully you can use this knowledge to protect your pearly whites this fall.
About the Practice
At Darby Creek Dental in Marysville, OH, we provide preventive care to patients of all ages and backgrounds. We have a team of three dentists with a wide variety of skills and experience to deliver comprehensive care and meet almost all of your possible dental needs under one roof. If you would like to learn more about how your favorite drinks affect your teeth, contact us here or at (937) 644-8822.