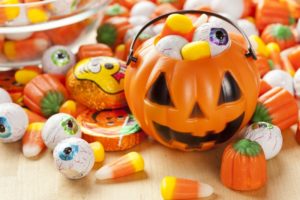 Halloween is approaching fast. For children, this means they can look forward to a bag full of free candy, but for parents, it means worrying about an increased risk of cavities and gum disease. If you want to keep your little one's smile safe, you don't need to stop them from enjoying sweets altogether, but you should make a plan so that they can work through their stash without damaging their pearly whites. Keep these 5 Halloween candy tips in mind over the next couple of months.
1. Timing is Important
The best time to eat Halloween candy and other sugary foods is right after meals. That's because your mouth makes more saliva while you're eating, and saliva helps rinse away food particles and cancels out the acids produced by oral bacteria. (The acids are a result of the bacteria feeding on sugar and are the real cause of tooth decay.)
You should discourage snacking on Halloween candy. The more they have throughout the day, the higher their risk of cavities. And of course, the additional candy isn't good for the rest of your little one's body either!
2. Choose Candy Carefully
When it comes to cavities, the amount of sugar doesn't really matter; what's important is how long it stays in your mouth and gives bacteria a chance to feed on it. Try to avoid hard candy that stays in the mouth for a very long amount of time. Also, be wary of taffy and other candies that can stick to the teeth, as it takes longer for them to be washed away.
3. Give Your Children Plenty of Water
You can give your child a little extra protection for their teeth by giving them fluoridated water. Not only can it help rinse sugar away, but the fluoride will provide extra protection against tooth decay. Many cities fluoridate their tap water; if you give your kids bottled water instead, look for fluoridated brands.
4. Let Your Child Chew on Sugarless Gum
There's one kind of treat that could actually be beneficial for your child's oral health. Chewing on sugarless gum for about 20 minutes after a meal helps increase the flow of saliva to clean the mouth of food particles and bacteria. The best kind of gum is one with a seal of approval from the ADA.
5. Encourage Regular Brushing and Flossing
Brushing and flossing become extra important around Halloween, so make sure your children are keeping up with their oral hygiene routine. If their toothbrush is three or four months old, get them a new one that will do the job better.
As Halloween gets closer, it's a good idea to talk to your dentist in Marysville about ways you can encourage good oral health while still letting your child enjoy the holiday. Halloween candy can make for a fine treat in moderation, but you'll need to be careful to make sure the fun in October doesn't lead to an emergency dental visit in November!
About the Practice
At Darby Creek Dental, our three experienced doctors can treat patients of all ages. We offer a wide range of dental services, from gentle checkups for children to cosmetic improvements for adults. We'll take a compassionate approach that will make you feel right at home! If you need to schedule a checkup for your child or have concerns about dental health around Halloween, you can visit our website or call (937) 644-8822.