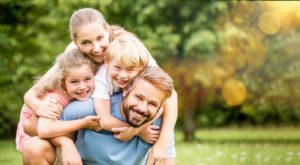 Great dental care is a necessity for your entire life; in fact, the American Academy of Pediatric Dentistry recommends that babies have their first dental appointment by age 1. Thus, you'll want to make sure that everyone in your family has a well-protected smile. Some adult patients might have a separate dentist to take their kids to – but why do that when you can get everyone treated at the same place? Here are 5 major advantages of finding a family dentist in Marysville.
1. It's More Convenient
It can be time-consuming to drive to different offices for regular checkups. With a family dentist, you can schedule everyone to be seen on the same day, saving yourself a lot of additional travel. For maximum convenience, it's best to find a practice that offers a wide variety of services (restorative work, cosmetic dentistry, root canals, TMJ therapy, etc.); that way you reduce the chance that you'll need to go see an unfamiliar specialist for certain treatments.
2. It Helps with Tracking Overall Family Health
Some dental problems, such as oral cancer or misaligned teeth, can be passed on or made more likely through genetics. If a patient is identified as being at risk before health issues actually develop, a lot of damage can be prevented. That's why having a single dentist maintaining records for all members of your family can be a good way to help stop problems before they start.
3. It Helps with Preventive Care
Naturally, regular checkups are an important part of avoiding cavities and gum disease. Children may need additional protection as they often have trouble brushing the teeth in the back of the mouth; that's why many practices offer dental sealants to help protect these hard-to-reach areas. A good family dentist will also be able to identify weaknesses in each person's oral care and advise on improvements.
4. It Sets a Good Example
Your children will look to you as an example of how to properly take care of their teeth; if you're seen practicing good oral hygiene habits, they'll be more likely to pick them up themselves. By going to the same dentist, you'll demonstrate how important these regular checkups are. Instilling a good attitude about these appointments early on also makes it less likely that your child will develop dental anxieties.
5. It's Easier to Build a Good Relationship with the Dentist
Your dentist is your partner in keeping your smile healthy and functional; when there's a dental emergency, it's important to have someone you trust to turn to for advice and treatment. By bringing the whole family to a single practice, it's easier for everyone to build a good rapport with a dentist, which can make a big difference over the long-term.
About the Practice
At Darby Creek Dental, Drs. David W. Cleveland, Deric R. Budendorf and Kyle S. Wylde treat families and patients of all ages. In addition to excellent preventive care (including dental sealants for the little ones), they provide a wide range of services, from cosmetic dentistry to root canals. To schedule an appointment, visit their website or call (937) 644-8822.