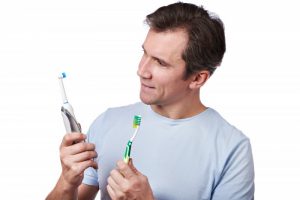 If you brush your teeth twice a day, you're already doing yourself a favor. However, brushing your teeth with the wrong toothbrush may not be giving you the full benefits of great oral healthcare. Thankfully, your dentist knows what to look for when choosing your next brush to give you the most thorough at-home cleaning possible. Keep reading to learn whether you should use an electric or manual toothbrush and why.
Why is Brushing Important?
Throughout the day, your teeth and gums collect plaque from the food you eat as well as naturally occurring bacteria. It's important to brush in the morning and at night everyday to remove plaque, which causes numerous problems like cavities and gum disease. Brushing is your first line of defense against plaque and bacteria, so it's vital that you have a good toothbrush for your smile.
The Different Types of Brushes
No matter what toothbrush you use, it should be replaced every 3-4 months. When the bristles become frayed, they don't clean your teeth as well, and your brush can actually damage your teeth. Additionally, older brushes can reinsert bacteria into your mouth. When it's time to get a new brush, it's important to choose one that works for your smile.
Manual Toothbrushes
Traditional toothbrushes are great as long as you use them! Make sure you pick a brush with soft-bristles because hard-bristled brushes can cause abrasion. You should also pick one that easily fits in your hand and has a head size that can get to hard-to-reach areas in your mouth.
Electric Toothbrushes
Electronic brushes are great for those with dexterity problems or people who can't brush their teeth well. These brushes create vibration that removes plaque, allowing you to do less of the work. Don't worry, you won't have to pay for a new electric brush every 3-4 months, but you should replace the heads to avoid lack-luster performance.
Which One is Best for Me?
The best brush for you is one that you're going to want to use twice a day, every day. However, your family dentist says that electric toothbrushes do in fact remove more plaque on average than manual brushes. So, if you're especially prone to cavities, consider purchasing an electric brush.
Now that you know which brush is going to work best for you, you can take care of your teeth at-home with confidence! Just remember to switch out your brushes every 3-4 months for a healthy smile!
About the Practice
At Darby Creek Dental, we have a team of 3 dentists who are each experienced and highly-trained to provide your family with quality care. They believe in patient education, which is why they want you to know the importance of using the right toothbrush. For any questions, they can be reached through their website or by phone at (937) 644-8822.