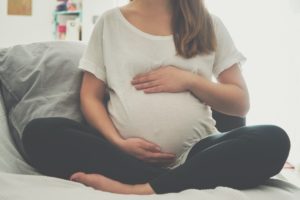 If you're pregnant, chances are good that the last thing on your mind is your teeth and gums. But you might be surprised at how important it is to maintain good dental health at this time, for you and your little one on the way. Fortunately, maintaining your oral health during pregnancy can be done with professional care and good habits at home. In this blog, you'll get 4 great tips from a dentist for keeping your mouth healthy during pregnancy. With this information, both you and your baby will thrive!
1. Continue Getting Routine Checkups
Checkups and cleanings are very important for pregnant women. In fact, some dental insurance plans even cover an extra visit during pregnancy, so it's worth it to check your benefits.
Routine care benefits you in multiple ways. First, due to hormonal fluctuations, pregnant women often get something called pregnancy gingivitis. Symptoms include bleeding gums (often after brushing or flossing), tender or swollen gums, and chronic bad breath. In recent years, researchers have found overwhelming evidence that gingivitis during pregnancy leads to a higher risk of preterm birth and low birth-weight babies. Also, if gingivitis is left untreated it can lead to more advanced gum disease, which is the leading cause of tooth loss.
In addition, if you have any dental problems that need to be addressed such as cavities, your dentist can find them when they're small and create a treatment plan that takes your pregnancy into account. For example, they may schedule your dental work at a more ideal time or decide to hold off until after you've given birth, depending on the severity of the issue.
2. Tell Your Dentist That You're Pregnant
Be sure to tell your dentist if you're pregnant, even if it's early and there's just a possibility. That way, they can give you the appropriate care such as holding off on routine X-rays and carefully evaluating your gum health.
3. If Possible, Get Dental Work Done During the Second Trimester
Sometimes the timing of dental problems is less than ideal. If you have a cavity or other issue that can't wait to be treated, it's best to get dental work during your second trimester, if possible. Dentists prefer to avoid the first trimester because it's the most vulnerable stage, while it will be hard to lay on your back during the third trimester.
4. Routine X-Rays Can Be Postponed
Modern digital X-rays are safer than ever because they use 90% less radiation than traditional. With that said, dentists generally prefer to postpone routine X-rays until after pregnancy. However, they'll need to take them if you have an emergency situation such as an infection, toothache, or abscess. In these situations, the benefits of X-rays far outweigh the risks.
Although pregnancy is often a busy time spent preparing for your new arrival, scheduling a checkup and cleaning with a dentist is well worth the time and effort. Not only will your smile stay healthier, but you'll increase the chances of having a healthy baby as well.
About the Author
Dr. David Cleveland is a family dentist with nearly 20 years of experience and a graduate of Ohio State University. He always educates his patients about the importance of dental care during pregnancy because he knows it leads to better overall health for both mothers and their babies. If you have any questions about your oral health during pregnancy, he can be reached via his website.