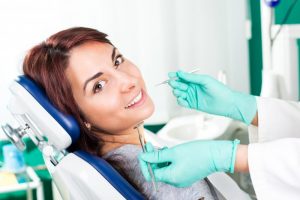 You may know that routine visits to your dentist keep your teeth healthy and clean, but did you know they can also prevent and detect early signs of serious health issues like oral cancer? Some problems simply can't be seen with the naked eye, which is why you should never skip a visit with your dentist. Keep reading to discover why dental checkups are a crucial step to take in preventing and detecting oral cancer.
What is Oral Cancer?
Oral cancer is actually a skin cancer—Melanoma. This is one of the more serious skin cancers, and its most common cause is repeated exposure to sun. Although the mouth isn't always exposed to sun, melanoma can still develop. Biologically speaking, melanoma can form anywhere melanocytes exist. This is found in your skin, mouth, heart, and other tissues.
What Are the Symptoms of Oral Cancer?
Oral cancer affects over 30,000 people every year. It isn't always visible to the naked eye, but contact your dentist right away if you notice any of these signs:
Frequent sore throat
Difficulty chewing and swallowing
Reddish or whiteish patches in your mouth
Change in the color, shape or size of skin pigmentation
How Can My Dentist Help?
With any cancer, early detection is key. That's why you should see your dentist twice a year for routine checkups. During these exams, your dentist will perform a quick and easy oral cancer screening to detect and prevent melanoma. They will review your neck and mouth for any abnormalities in your tissue. An oral cancer screening with your dentist can literally save your life.
To avoid chemotherapy and radiation treatment, your dentist can find the cancer early on. The earlier the cancer is detected, the less likely it is to cause you any serious harm. Untreated oral cancer can result in loss of parts of your mouth that are affected, and chemotherapy can actually have a negative affect on your teeth.
Radiation therapy can cause oral health issues like debilitating mouth sores or dry mouth. These affect your teeth and gums negatively, which is another reason why it's vital to catch oral cancer while it's still in the early stages.
Now that you know what oral cancer is, contact your local dentist to get an oral cancer screening. This quick and easy part of a dental checkup can save your life!
About the Practice
At Darby Creek Dental, we have a team of 3 highly-trained dentists who enjoy providing quality care to their patients in Marysville. One of our dentists, Dr. Deric R. Budendorf, has research experience with oral cancer, making him an expert at detecting the signs. For any questions you may have, our dentists can be contacted through their website or by phone at (937) 644-8822.