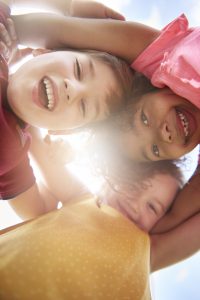 Your child's smile is important every day of the year – and this February, the American Dental Association (ADA) and your dentist in Marysville, Darby Creek Dental, help you keep their teeth healthy by participating in National Children's' In this article, you'll find out about this nationwide campaign for kids, as well as helpful hints on what you can do to give your kids a smile that will last a lifetime.
What Is National Children's Dental Health Month?
Starting out in Cleveland, OH in the 1940s, this initially small campaign quickly grew to a nationwide initiative to promote dental wellness for children. Each February, the ADA selects a topic that focuses on oral health for kids. They provide fun stories, coloring book pages, and activity sheets to keep your children interested in taking care of their smiles.
How Can I Teach My Child To Prioritize Their Teeth?
Dr. Cleveland, Dr. Budendorf, and Dr. Tschand offer the following strategies to help your kids take care of their oral health:
2×2 – Make sure your kids brush their teeth gently, twice a day for two They should floss each time they brush, too, and encourage them to spit out toothpaste, since swallowing fluoride can be too much of a good thing.
Professional Care – The ADA recommends taking your child to their first dental appointment no later than their first birthday, since dental problems can occur as soon as teeth arrive in the mouth. Kids are especially prone to tooth decay and cavities, so visit us twice a year for professional exams and cleanings.
Get To Know Your Dentist – Giving kids a great impression of the dentist when they're young is crucial to setting them up for a lifetime of dental success. Make the first appointment about education, and getting to know the team at Darby Creek Dental.
Make It Fun – The best way to get your kids to take care of their teeth is to make it enjoyable. Watch cartoons, read children's books about oral hygiene, and talk about the dentist in a positive light. Listen to music to make sure your kids brush long enough. Take a favorite stuffed animal to appointments, and give your kids a sticker or a small toy for being a good dental patient.
Eat Healthy – Kids are inundated with sugary snacks and beverage, so eliminate sweets as much as possible. This includes fruit juice, which constantly bathes your child's teeth in sugar. Stick to water, enjoy high-protein snacks, leafy greens, and dairy – say cheese, since it can prevent cavities.
Set A Good Example – You are a role model, especially when it comes to oral hygiene. If you tell your kids their teeth are important, but skimp on flossing, drink soda all day long, and don't see the dentist yourself, your kids will pick up on this message. Lead by example – and, if you're a smoker, stop now – your kids are watching.
Since you now know what National Children's Dental Health Month is all about, schedule an appointment with your family dentist in Marysville, Darby Creek Dental and give your kids something to smile about!