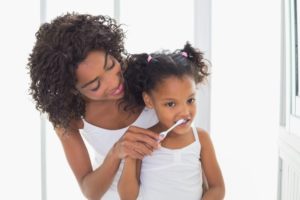 As a parent, there's nothing more important to you than making sure that your little one has the tools they need to take care of themselves as adults. That includes the knowhow to effectively brush, floss, and generally maintain great oral health. Seeing their smile is priceless for you, and since February is Children's Dental Health Month, there's no greater time to focus on passing down all of your tips, tricks, and knowledge on how to take care of their teeth and gums. Read on for some helpful dental hygiene tips from a children's dentist.
Normalize Visiting The Dentist
When you start taking your little one to your family dentist while they're young, they'll have a chance to get used to the sounds and scents of the office as well as the dental team. Not only will this help them build a great relationship with their oral health, but it'll also reduce the chances that they experience anxiety and fear at the thought of having their teeth cleaned or examined. Plus, your family dentist will be able to educate them on how they can make sure that their pearly whites remain beautiful, bright, and healthy just like their parent's.
Develop Healthy Habits at Home
While brushing and flossing play a huge role in maintaining good oral health, there are other habits you can encourage your child to build to keep their teeth cavity-free. Many children's snacks and drinks can contain sugars and carbohydrates, which are harmful oral substances that are known to play a role in cavity development. If your child loves sweets or starchy snacks, try substituting healthier alternatives, such as fresh fruit or vegetables. Not only can these help increase their saliva production to neutralize harmful acid in their mouth, but they're also a great substitution for their overall wellbeing!
Provide Them With Easy-To-Handle Dental Hygiene Tools
There's one way to get great at brushing and flossing your teeth, and it's to practice until you can effectively remove plaque and food debris from your mouth. A great way to encourage your child to invest time into regularly brushing and flossing is by getting them oral hygiene products that are easy to handle and use. That includes toothbrushes with shorter handles and smaller bristles as well as flossing picks or a water flosser, which can make it easier to maneuver between teeth than regular string dental floss. You can also make their morning and nightly routine feel less like a chore and more like an activity by getting them fun bathroom accessories that dawn their favorite colors and cartoon characters.
Emphasize The Importance Of Their Baby Teeth
Even though your child's temporary teeth are destined to fall out, be sure to emphasize how important it is to keep them healthy. If they lose them too soon due to oral health problems like decay, it can cause a variety of issues down the road, such as orthodontic problems. This is because their baby teeth act as space holders for their permanent ones, and when they fall out earlier than they're meant too, they're not able to guide their adult teeth into alignment.
The best way to celebrate Children's Dental Health Month is to schedule your little one's checkup and cleaning with your family dentist. With the right tools, treatments, and habits, they'll be able to maintain good oral health, even as adults!
About the Practice
At Darby Creek Dental, we offer the care of three family dentist's who are all passionate about providing patients of all ages with high-quality treatments they deserve. By focusing on preventive dental care, our dentists are able to help children avoid oral health problems by providing them with the knowledge they need to reduce their risk of developing cavities and other issues. We also offer additional children's services, including dental sealants and nightguards for teeth grinding. For questions or to schedule checkups and cleanings for your entire family, visit our website or call 937-644-8822.