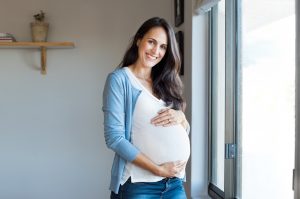 If you are an expecting mother, you probably have questions about how you should care for yourself during your pregnancy so you can give your baby the best possible start in life. Everything, from the food you eat to the activities you participate in, can have an impact on your little bundle of joy. One common concern that pregnant women have is about dental work during pregnancy. Is it safe? Are there any precautions you should take to protect your unborn child when you're visiting the dentist? Let's talk about these important issues.
Dental Checkups
You should not skip routine dental visits just because you are pregnant; on the contrary, your pregnancy gives you even more reason than usual to see an oral health professional. The hormones that run through your body during pregnancy can affect your gums, causing them to swell, bleed, and trap harmful bacteria. Continual morning sickness can even erode your tooth enamel. Your dentist can clean your teeth, check for any serious problems that could jeopardize your oral health, and coach you on how to care for your smile throughout your pregnancy so it suffers as little damage as possible.
Restorative Work
If, during a routine exam, your "dentist near me" recommends that you undergo a specific procedure, such as a filling or crown, it should be safe for you to have it done. However, you must make sure that your dentist knows you are pregnant. They'll take that fact into account when they're determining the types and amounts of medication and anesthesia that they'll administer during your procedure.
It's often best to have extensive dental work done during your second trimester; it may be difficult for you to lay on your back for a long time during your third trimester. In some cases, you may even be able to wait until after you give birth to have your procedure done.
X-Rays
It's may be possible to delay X-rays until after you give birth if you are concerned about your child's safety. However, if your dentist recommends that you have this diagnostic procedure done, there is really no reason to worry. According to the American Dental Association, X-rays are safe for pregnant women as long as appropriate shielding is used.
Cosmetic Work
You want a beautiful set of teeth to complement the glowing skin that comes with pregnancy — but it's best to delay cosmetic dental work until after you give birth. You don't want to take any undue risks with your precious little bun in the oven.
Dental work is often necessary during pregnancy, and there is no reason to be afraid of it! With a few simple precautions, you and your dentist can work together to make sure your smile stays as healthy as possible while you're growing a tiny human.
About the Author
Dr. Kyle Wylde is proud to work alongside the other two dentists in our practice to provide top-notch dental care to families in our community. He earned his dental degree in 2013, after which he went on to complete a one-year Advanced Education in General Dentistry residency. If you would like Dr. Wylde and the rest of the team at Darby Creek Dental to help keep your oral health on track during your pregnancy, contact us at 937-644-8822.