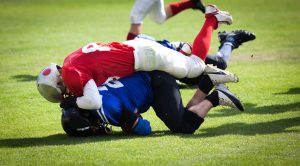 Whether you're gearing up for your child's new sport or your own season opener, there's one piece of equipment you shouldn't forget: a mouthguard/sports guard. It doesn't matter what you call it — this small device can provide significant protection against the dental injuries that cause pain and can end up costing you a lot of money on dental care.
There are three types of sports guards:
An over-the-counter, one-size-fits-all guard

A "boil and bite" guard from the pharmacy

A custom-fitted sports guard you get from your dentist
But which one of these is best for your or your child's smile? Keep reading to find the answer. Spoiler alert: it's option C.
About Sports Guards
The bulk of dental emergencies (broken teeth, busted lips, knocked out teeth) are caused by contact sports. Wearing a mouthguard doesn't take much preparation and it can provide a significant amount of protection, no matter your preferred sport.
When you are evaluating your options, remember that achieving a proper fit is crucial for a mouthguard's effectiveness. One-size-fits-all equipment rarely actually fits "all" — and that can result in a guard that slips out when you need it most, or, worse, never gets worn at all. Boil and bite options are a little better, but they still do not provide as much protection as a customized sports guard can. In fact, research even shows that this type of equipment can reduce the risk of concussion in contact sports.
How to Use It Properly
Your dentist can create a customized mouthguard based on the specific dimensions of your teeth and jaw bone. Given this extreme customization, the mouthguard is sure to fit perfectly — so you probably won't notice it while you are on the field, court, or mat. Make sure to wear the equipment during every practice and game or match for maximum protection! Once you are finished, take the sports guard out and clean it to prevent bacterial buildup. Store the equipment in its hard case when you are not using it to prevent damage or loss.
When to Replace a Sports Guard
With proper care, your customized mouthguard can typically last for about a season, or 6 months. Replacement is important to ensure that it continues to fit properly and comfortably. As soon as you notice the device starting to lose its fit or if it gets worn down, contact your dentist ASAP for a replacement. Keeping the guard in good shape is important for protecting your smile!
Getting a sports guard doesn't take any time at all — just one appointment to your dentist's office, and it can help keep your smile healthy, complete, and whole for a lifetime. That's worth the investment!
Meet the Practice
Darby Creek Dental offers comprehensive dentistry services from the comfort of their state-of-the-art office. With all treatment plans firmly based on prevention, this team works to keep patients smiling for a lifetime! To learn more about sports guards or to have one created for you or your favorite athlete, you are invited to request an appointment today.