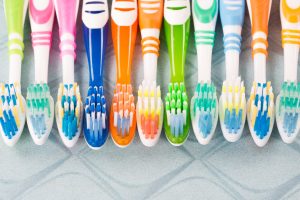 Your dental health is supported by two primary pillars – one being your oral hygiene. The latter is of great significance because it helps to foil one of the greatest foes of a healthy mouth, teeth and gums – bacteria. And a simple tool called a toothbrush is a major player in your hygienic regimen, but with so many on the market, how do you make the right choice? Should you use an electric or manual version? Are hard bristles better for removing plaque? These and other questions will be answered by your local dentist as you continue reading.
Electric vs Manual Toothbrush – Which is Better?
When choosing whether to use an electric or manual toothbrush, here are some things to keep in mind:
Cost – The first category we'll look at is the cost. The price of the manual toothbrush will be substantially less than that of its electric counterpart. Furthermore, whereas the electric version requires the initial purchase of the unit and batteries, as well as replacement heads, the manual brush only takes a single purchase. Then after 60 – 90 days of use, you can discard it for a new one.
Time – The American Dental Association recommends that you brush your teeth at least two minutes each session. It's not necessary to engage for that long when using the electric option, though. That's because its motorized action rotates the bristles at a speed of 6,000 to 30,000 strokes per minute, a rate that can't be remotely matched by manually brushing.
Control – If you have sensitive gums, the manual toothbrush is probably the better route to take. This is because it allows you more control over the amount of pressure that you apply to your teeth and gums.
Ease of Use – Although the manual option affords you more control, it's not as easy to use as the electric toothbrush. Thus, if you have an injury or condition that limits your range of motion, the electric version will allow you to get to the harder-to-reach places without requiring as mush dexterity.
When it comes to choosing an electric or manual toothbrush, it boils down to your preference. The one that works best for you is the right one to choose. They are both highly effective used correctly and consistently enough.
Should I Use Hard or Soft Bristles?
Another dilemma is whether to use soft or hard bristles. Although it may seem that using the harder, more abrasive type would deliver a better cleaning, keep in mind that the enamel of your teeth is a hard but delicate surface. And just like you wouldn't use harsh abrasives to clean high-end porcelain cookware, you shouldn't use them on your teeth.
Thus, the better route to take is that of the softer bristles. Not only will they be safer for your teeth, they will also prevent the irritation of your gums.
So now you have some guidelines to follow to make the best choice on a toothbrush for your specific needs. Just know that you are taking a great step for protecting your dental health by committing to practicing better oral hygiene.
This works hand-in-hand with the other pillar of your oral health – the semi-annual visit to your dentist for a checkup and cleaning. So to schedule your first visit, just reach out to your family dentist today!
About the Author
A native of Central Ohio, Dr. David Cleveland earned his Doctor of Dental Surgery degree from The Ohio State University. He would then go on to receive advanced training in many aspects of general dentistry. Dr. Cleveland practices at Darby Creek Dental and can be reached for more information through his website.