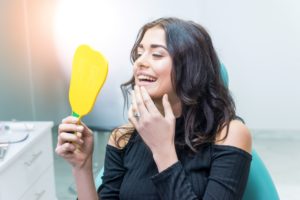 Believe it or not, another year is already here. As you make your New Year's resolutions to decrease your debt or eat healthier, you may be overlooking a crucial aspect to your wellbeing—your smile. With the start of the new year, your dental benefits just reset. You can see your dentist for minimal out-of-pocket expense to invest in a healthy smile in 2020.

Maximize Your Dental Benefits
Every month you pay a premium for your insurance benefits, which gives you access to discounted services your teeth and gums rely on to stay healthy. Although every policy differs, most plans include 1-2 preventive appointments per year to get the cleanings and checkups you need for only a small co-payment.
If you have an untreated oral health issue, like a cavity, it doesn't need to go untreated. After paying your deductible, your insurance company will pay a portion of the cost until you reach your annual limit. You can quickly reinstate the health of your smile without breaking the bank.
At the end of the year, your insurance coverage will expire. You won't be reimbursed for anything you don't use, and it won't carry over for accumulation. With less than 3% of Americans meeting or exceeding their annual benefits, it's best to see your dentist regularly throughout the year, so you aren't throwing money down the drain.
Invest in a Healthy Smile
The American Dental Association recommends you see your dentist at least twice a year for a cleaning and checkup. Although you might think a trip to your dentist isn't necessary until after a problem develops, this isn't true. In fact, routine care is equally important as your toothbrush and floss because they prevent oral health issues from developing in the first place. This not only keeps your smile healthy but also reduces your long-term dental costs because it prevents the need for an expensive procedure in the future. In fact, research shows every $1 spent on prevention can save you as much as $50 on restorative and emergency care.
Visit Your Dentist Today!
Although your schedule may be a bit busier during the beginning of the year, take the time to visit your dentist. Your dental insurance gives you the cost savings-opportunities you need to maintain your oral health while staying within your budget.
Make sure a healthy smile is at the top of your priority list in 2020. Maximize your dental benefits today!
About Darby Creek Dental
Darby Creek Dental strives to create generations of healthy smiles through personalized, affordable dental care. We offer the services our patients need through all stages of life under one roof. Using state-of-the-art technology, you'll benefit from the best to achieve healthy teeth and gums. We work with many leading insurance carriers to reduce the amount our patients need to pay out-of-pocket. You can get the high-quality care you deserve without worrying about a large bill. If you're ready to use your annual benefits, contact our office today to schedule an appointment.