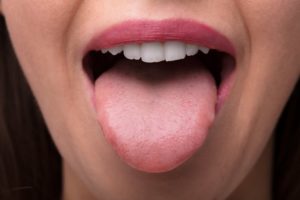 It's a beautiful Sunday morning. You wake up to birds chirping, a light beam of sun shining in, and the smell of coffee wafting into your bedroom. You roll over to say good morning to your significant other, but immediately regret your decision when you smell your morning breath. Does this sound familiar?
While brushing and flossing daily are important in keeping your teeth healthy, taking proper care of your tongue is a step that many overlook. And it could be the cause of insecurities stemming from bad breath. Here is everything you need to know about combatting this issue from a Marysville dentist.
The Dangers of Not Cleaning Your Tongue
Have you ever stopped to think about how incredible the tongue is? Each day it provides you with the ability to communicate with your loved ones and taste delicious meals. Despite it being an essential component of our everyday lives, most skip over taking proper care of it in their oral hygiene routine. As a result, a thick layer of film and bacteria builds up. While initially it may seem like just an aesthetic issue, this build-up of bad bacteria can negatively impact your health. In addition to tooth decay and gum disease, a condition called "black hairy tongue" can occur. This phenomenon occurs when the papilla on the tongue become longer and collect dirt, which causes it to resemble short hairs. The best way to combat these conditions is to clean your tongue regularly.
The Benefits of Cleaning Your Tongue
Properly cleaning your tongue will do more than just avoiding unpleasant conditions like black hairy tongue. In addition to reducing bad breathe, cleaning your tongue properly can:
Improve your sense of taste
Lower risk of tooth decay
Remove bacteria
Promote digestive health
Increase your overall health
How To Clean Your Tongue Properly
To clean your tongue properly, it is important to incorporate both brushing and scraping techniques. The brushing technique can be used by gently rubbing the bristles of your toothbrush over your tongue to remove unhealthy bacteria. From there, you can use a tongue scraper to clean the area by evenly running the scraper along your tongue from back to front. While these steps can be done at the beginning or end of your oral hygiene routine, it is important to always start from the back of the tongue and work your way forward. This will ensure that none of the bacteria is accidentally pushed to the back of the throat and swallowed.
While experiencing bad breath is an insecurity many people face, an effective oral hygiene routine that includes cleaning your tongue properly can help you overcome that insecurity and get back to enjoying your mornings!
About Darby Creek Dental
Darby Creek Dental has created a legacy of dental excellence in Marysville through its state-of-the-art technology, friendly team, and focus on providing you with the best experience possible. They have achieved this by truly making your smile their number one priority and living out that mission each day with their compassionate customer service. If you have any questions about the article you just read, you can contact Darby Creek Dental via their website or by phone at 937-644-8822.