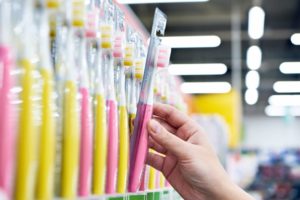 Toothbrushes are a vital dental hygiene tool that clear your mouth of harmful substances like plaque, food debris, and bacteria. If they're not regularly replaced, they become less effective, which can increase your risk of developing oral health problems like gum disease. If you notice that your toothbrush is frayed or it has been longer than three months since you last replaced it, it's time to hit the store and purchase a new one that will fit your needs. Read on for four factors you should consider on your hunt for a new  toothbrush.
Size of the Head
Toothbrushes can have different sized heads which can make it easier or more difficult to access certain areas of your mouth, depending on your needs and oral structure. Most adults can easily maneuver and use toothbrushes with heads that are a half-inch wide and one-inch tall.
When it comes to picking out a toothbrush for children, it's important to choose one that's easy for them to handle and move around in their mouth. Adult toothbrushes will be too large and the handles will likely be too long and cumbersome for them to use. That's why it's important to choose one that's specifically made for smaller hands and mouths.
Type of Bristle
When you go to the store, you may notice that there are soft, medium, and hard bristle-types. A majority of patients use soft-bristled toothbrushes because they're safer to use and more comfortable on your gums and oral tissues. Typically, patients choose medium or hard bristles thinking that they will clean their teeth better; however, these bristles often result in damage to the gums, root surface, and tooth enamel because they're so rough and abrasive.
ADA Recommended
Even though a toothbrush seems like a pretty straight-forward and basic tool, it's important to make sure that it's recommended by experts and proven to be safe to use. You can ask your family dentist for recommendations or you can check toothbrush packaging to make sure that it includes the American Dental Association's seal of approval. This ensures that it has undergone safety testing and has been put through several clinical trials that prove that it is safe, effective, and won't damaged any part of your mouth.
Electric or Manual
One difficult decision to make while shopping for a new toothbrush is whether you want an electric or manual one. Most electric and sonic toothbrushes have been proven to be more effective and faster at remove plaque and food debris. However, if you prefer using a manual toothbrush and have good technique, then there's no problem with using one of those! Some other factors to consider when choosing between an electric or manual toothbrush are cost, how likely you are to use it, and whether it's safe to use.
The best place to start your search for a new toothbrush is at your dentist's office by asking them for recommendations at your next checkup and cleaning! With efficient and effective dental hygiene tools, you'll have an easier time preserving and protecting your wonderful smile.
About the Author
Dr. David Cleveland has completed a one-year general practice residency, where he received advanced training in several dental treatments upon graduating from The Ohio State University with his Doctor of Dental Surgery degree. He focuses on providing each of his patients with the tools and knowledge they need to maintain healthy smiles. He is also an active member of several professional organizations, including the American Dental Association, Ohio Dental Association, and Central Ohio Dental Society. For questions or to schedule a checkup and cleaning, visit Darby Creek Dental's website or call 937-644-8822.