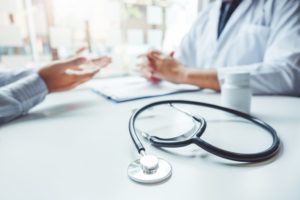 Your oral health can act like a window to your overall health. For example, a broken tooth can influence your diet and therefore lower your immune system, and the presence of gum disease indicates a higher risk of pregnancy complications and heart disease. But have you ever wondered "can my physical health have an impact my oral health?" Just as your oral and overall wellbeing are linked, there's a connection between general health issues and dental issues. Find out how common afflictions like asthma and diabetes are impacting the health of your mouth and teeth, and what you can do about it.
Asthma & Diabetes — How Does it Impact Oral Health?
Although asthma and diabetes are unrelated, they both can make you prone to cavities. Asthma inhalers and the presence of diabetes both reduce the production of saliva, which constantly protects your teeth from cavities and strengthens your enamel. A dry mouth quickly accumulates bacteria that attacks the weakened enamel, rapidly causing cavities and gum disease.
Hydration can be a powerful tool to boost your oral health. Drinking water will combat the buildup of bacteria while encouraging the production of saliva. Enamel-strengthening mouthwash, regular brushing and flossing, and biannual trips to your dentist can keep your mouth clean of bacteria and infection.
Anxiety & Oral Health
Excessive worriers and those with anxiety will often tense up. Sometimes, this unconscious behavior will result in bruxism, which is a condition that causes patients to grind their teeth and clench their jaw, often while they're asleep. This constant added stress can cause headaches, facial pain, worn enamel, and even fractured teeth!
To protect your oral health, pay attention to what causes you stress. Focus on relaxing your muscles whenever you feel them tightening, practice meditation, or talk to your doctor about how to manage your anxiety. Bruxism can be confirmed by your dentist, who can give you a nightguard to protect your teeth.
Unhealthy Lifestyle  Oral Health
Just like how good dental habits can have a positive impact on your life, bad lifestyle choices can hurt your oral health. Try these simple healthy habits to improve your overall and oral wellbeing:
Eat less sugary, fried foods and more healthy, baked foods.
Increase your physical activity to boost your immune system.
Quit smoking and reduce your alcohol consumption.
Remember, overall health includes healthy teeth! See your dentist regularly for your checkups to keep your teeth healthy and identify any underlying health issues as soon as possible.
About the Author
Dr. David W. Cleveland is a preventive and restorative dentist in Marysville, OH. He is a graduate of The Ohio State University and member of the American Dental Association, Ohio Dental Association, and Central Ohio Dental Society. He is passionate about providing his patients with happy, healthy smiles that reflect happy, healthy lifestyles. If you'd like to know more about the connection between your oral and overall health, he can be contacted via his website or at (937) 644-8822.