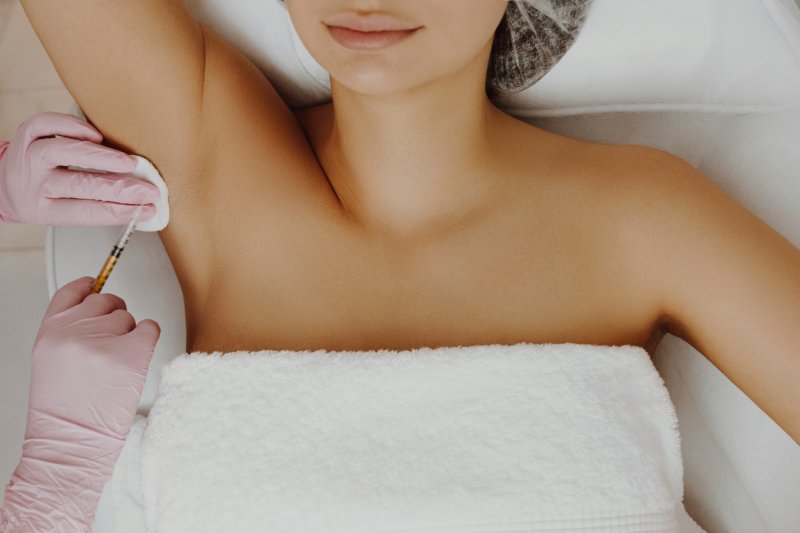 When you think of Botox, there is a good chance you immediately envision someone having an injection to eliminate fine lines and wrinkles. While it is true that this unique solution can turn back the clock on aging, it also has other beneficial uses. From treating migraines to reducing excess sweating, here are 5 ways Botox can be used outside the realm of wrinkles.
Excessive Sweating
Whether it is your underarms, scalp, forehead, or palms, Botox can be used to reduce excessive sweating (hyperhidrosis) in various areas of the body. Because it temporarily paralyzes the muscles, it can temporarily eliminate the possibility of signals being sent from your nerves to your sweat glands. As a result, you will not be left wiping away perspiration from the different parts of your head, hands, feet, etc. The results can last for up to 6 months, which can be life-changing for some individuals.
Lifting Your Nose
As you age, you may notice that your nose tends to sag more than before. Because this usually is not a welcome reality for most people, you may begin to think about getting a nose job, but before you do, consider Botox. This injectable solution is used at the base, between the nostrils, to stop the muscle that continually pulls the nose downward. Within minutes, you can enjoy a younger, more aesthetically pleasing appearance.
Create Voluminous Lips
Are your lips thin and lackluster? Have you tried special fillers or cosmetics to make them appear larger? One method of treatment you may not have considered is Botox. Its ability to create a roll effect will have you seeing plumper lips in no time at all. Your skin care specialist will just inject the solution along the top border of the upper lip. Not only will you be pleased with the results, but with Botox, you'll pay much less than if you were to opt for collagen injections.
Eliminate Migraines
If you suffer from migraines, you'll likely do just about anything to find relief from the pain. Fortunately, Botox is capable of blocking signals to the brain that result in severe discomfort as well as temporarily paralyzing the muscles that are most commonly affected by migraine pain. When opting for this method of treatment, your doctor will use your head, temples, and forehead as injection sites. Using Botox to curb this type of neurological discomfort is extremely beneficial, especially if other medications do not work.
Create a Softer Jawline
Are you prone to grinding your teeth at night? Not only does this bad habit wreak havoc on your teeth, but it can cause problems with your jaw as well as cause it to widen over time. If you want to maintain a softer appearance, you'll want to talk to your doctor about Botox. Injecting it into the jawline and/or chin will create a lifted look that also minimizes pain caused by teeth grinding. You may also notice your cheeks appearing higher and your jaw becoming narrower.
Now that you know there are other uses for Botox, you can start taking a proactive approach to a healthier, happier you. If you want to focus on self-care this year, make sure to talk to your doctor about what Botox can do for your well-being.
About the Practice
The team at Darby Creek Dental is ready to help you take the next step to enjoy better oral and overall health and wellness. Providing Botox to individuals who want to reverse the aging process and recapture a youthful appearance, our team can also use this unique aesthetic treatment in other ways that will eliminate pain, reduce sweating, and boost lips, cheeks, and jawlines. If you are ready to try Botox, contact us at (937) 644-8822.