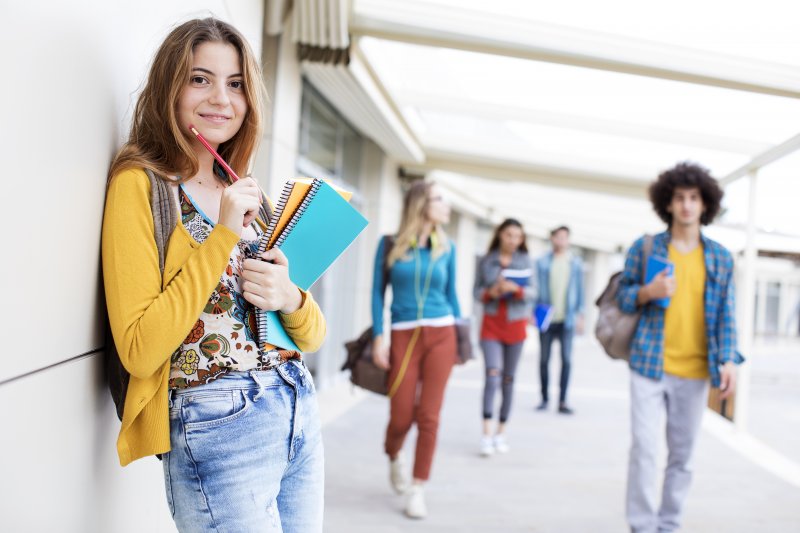 The days are getting shorter, the air is turning crisp, and the first day of school is right around the corner. Parents with young children might be jumping with joy because their little ones are returning to school. But if you have an Invisalign teen, you're probably worried they'll derail from treatment while away from home. Luckily, there are a few ways you can ensure they stay on track. Here are some back-to-school tips to help your child stick with the program.
Eating at School
Most patients opt for Invisalign because there are no dietary restrictions during treatment. However, the clear aligners can make it challenging to eat certain foods, especially at the start of a new tray cycle when the teeth and gums can feel very sore.
Does your teen often complain about discomfort when starting a new set? Consider packing them a lunch that contains soft foods. Applesauce, oatmeal, plain yogurt, soup, and smoothies are just a few nutritious options that are also easy on the aligners. It's the best way to ensure your child is well-fed and nourished!
Staying on Top of Oral Hygiene
Everyone knows about the importance of brushing and flossing – but it's especially important during Invisalign treatment. It's crucial for your teen to brush their teeth after each meal and snack, right before slipping their aligners back in. Otherwise, residual food and other debris can cause plaque buildup and cavities.
Help your child maintain good oral hygiene by giving them an on-the-go kit that contains a toothbrush, fluoride toothpaste, and dental floss. Make sure the tools are travel-sized so they can easily stash them in their backpack. Don't forget to remind them to clean their aligners as well! You can provide them with a bottle of spray-on cleaning solution that they can use on their trays before reinserting.
Overcoming Wear-Time Barriers
For successful Invisalign treatment, your teen must meet the daily recommended wear time of 20 to 22 hours. Unfortunately, that is not an easy task for most teenagers. Here are some common wear-time barriers and how to overcome them:
Speech Impediments – After starting treatment, it's normal to experience a slight lisp or another impediment. Even though it's only temporary, it can still be quite embarrassing for teens. You can help your child overcome any alterations by encouraging them to speak and giving pointers to improve their speech.
Bad Breath and Dry Mouth – Sadly, there is no cure for bad breath or dry mouth. There are only remedies to manage the symptoms. To keep them at bay, tell your teen to drink plenty of water, brush and floss after every meal, clean their tongue, and chew sugar-free mints.
Discomfort – Your teen might feel discomfort each time they start a new tray cycle. They can alleviate pain by using dental wax and rinsing their mouth with peroxide-based mouthwash to soothe mouth sores.
Go over these tips and tricks with your Invisalign teen before school starts. Knowing what to do will help them feel confident, well-informed, and prepared to power through their smile journey on their own!
About the Practice
At Darby Creek Dental, we provide pleasant, high-quality, and compassionate dental care that the entire family can enjoy. Our team of skilled, highly trained dentists has plenty of experience working with children of all ages. If your Invisalign teen needs help staying on top of treatment during school, we're more than happy to assist them in any way we can. Want more tips and tricks? Visit our website or call (937) 644-8822 to speak to a dental professional.