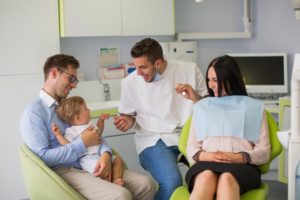 Summer is almost over, and you can practically hear the school bells in the near future. It's time to start making those back-to-school checklists. Buying supplies, meeting the teachers, and getting immunizations are all important to make sure your son or daughter starts the year off right. One more thing that should be on that list is getting their biannual checkup with their family dentist. Let's take a closer look at 3 reasons why you should add seeing a dentist to your back-to-school list.
1. Get Teeth Freshened Up for Yearbook Pictures
When you visit your dentist for a checkup, a dental hygienist will use special instruments to clean your little one's teeth. These tools will help reach areas that your child probably can't reach by themselves with just a toothbrush and floss. Then, your kid's teeth will be whitened with a special paste that will remove surface stains caused by consuming colorful foods and beverages this summer. Your little one's smile will shine bright, and will be preserved for years to come in the upcoming yearbook pictures.
2. Keep from Getting Cavities
Young kids generally have a hard time reaching to brush their back teeth, and that can put them at risk for cavities.  This is because bits of food can get stuck in the nooks and crannies of the molars. Luckily, your family dentist has a solution – dental sealants. Sealants consist of a thin plastic coating that is painted onto your child's molars. They are excellent at preventing cavities while your son or daughter grows enough to reach those back teeth. It will save you and your child money and time in the long run by not having to get nearly as many fillings. They also won't have to leave school to get those fillings done, so they won't have to sacrifice any time from their education.
3. Make Teeth Stronger
If you've had a lot of cavities over the years, there's unfortunately a chance that you might pass that on to your child. However, your dentist can provide your kid with a little extra protection in the form of fluoride. Fluoride is a mineral that occurs naturally in water, and it strengthens our teeth to protect against decay. After your little one's teeth have been cleaned, your dentist will apply a small amount of fluoride with instructions not to eat or drink anything for a certain amount of time afterwards. This is to make sure that the fluoride sets in and has enough time to works its magic.
Now you see how important it is to see your dentist before school starts. Schedule an appointment with your family dentist today and make sure your child's smile is nice and healthy for the school year.
About the Practice
At Darby Creek Dental, Drs. David Cleveland, Deric Budendorf, and Kyle Wylde bring a wide variety of skills to the table. They provide many different services to protect your child's teeth, including dental sealants. To learn more about how to care for your child's teeth, visit our website or call (937)-644-8822.