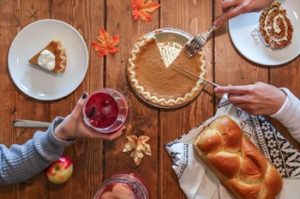 Nothing is better than gathering with your loved ones to share warm meals and memories during the holiday season. Thanksgiving kicks off the festivities, but if you aren't careful, it can leave a lasting mark on your smile long after the bright decorations are put away. Believe it or not, there are several Thanksgiving foods that might taste great, but they can stain your teeth. Here are 5 foods to avoid for white teeth throughout the holidays.
1. Coffee
Your days will be a bit longer and cooler than usual. A cup of coffee is a great way to warm up while giving you an added boost of energy. Unfortunately, drinking too much of it can stain your teeth. If you can't give up your morning cup of coffee, it's best to drink it through a straw to limit its contact with your teeth. Be sure to brush your teeth well afterward. If you can't get to your toothbrush, rinse your mouth with water.
2. Cranberry Sauce
Cranberry sauce perfectly complements a well-roasted turkey, but its dark color can blemish your teeth. Not to mention, the fruit is acidic, which will soften your enamel, making your teeth more susceptible to discoloration. You can still have the sauce in moderation; however, drink a glass of water while you're eating to cleanse it from your teeth.
3. Wine
If you've ever spilled a glass of red wine, you know firsthand how difficult it is to get it out of carpet or clothing. It will have the same effect on your teeth. If you need a glass of wine with dinner or after a long day, you'll want to brush your teeth after you've finished to ensure there isn't any residue lingering in your mouth.
4. Balsamic Vinegar
A salad is a healthy side for any meal. Although there are many dressings, balsamic is often a favorite because it is light in calories. Unfortunately, it is dark in color and acidic, which creates a recipe for disaster for your teeth. If you can't skip the dressing, include a glass of water with your meal.
5. Pie
Pumpkin pie is a common dessert; however, many families also enjoy those that have berries. Darkly colored berries can stain your enamel, but that doesn't mean you need to avoid the tasty dessert. Instead, brush your teeth well when you're finished. If you can't clean your teeth right away, chew a piece of sugarless gum.
Enjoy a Bright Holiday Smile
If your smile has already lost its luster, you can turn back time with the help of your dentist. A professional whitening treatment can get your teeth as much as 8 shades whiter to invest in a bright smile for the new year.
About Dr. David W. Cleveland
Dr. Cleveland has over 20 years of experience in dentistry. He earned his dental degree at the Ohio State University and has completed additional training in many aspects of dentistry, including cosmetic services. If you need a whitening treatment, contact our office today to schedule your consultation.