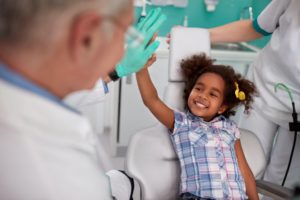 As a parent, your life is already hectic enough. Between driving your child to school, friends' houses, and sports practices, you hardly have any time for yourself these days, let alone to take your son or daughter to their dental appointments. One easy way to save a little time is to simply take everyone in your family to the same dentist's office. By attending checkups with a family dentist, you and your child can take advantage of several benefits. Keep reading below to learn a few of the numerous advantages of seeing a dentist for all ages.
Added Convenience
No longer will you have to commute all the way across town to address both your and your child's oral health needs. Instead, you can get them taken care of at the same place. Whether your little one needs help with a loose tooth, you need to get fillings done, or Grandma needs her first pair of dentures, a family dentist will be able to fulfill all those requirements under one roof.
Appointments for Your Schedule
Family dentists understand that parents lead busy lives. Because of this, many practices are more than willing to work with you to find appointment times that fit into your schedule. For example, several family dental practices offer later hours so you and your child can come in after you're done with work and they're done with school. In addition, you can often schedule a block of time for the whole family to get their checkups taken care of. This way, you can make it a fun family outing!
Development of Personal Relationships
The longer you and your family see a dentist, the deeper the relationship becomes. Each member of your family will grow closer to the dental team and feel more at ease receiving treatment from them. This makes it easier to express any oral health concerns that may arise in the future.
Set a Good Oral Health Foundation for Kids
By actually seeing you get your teeth cleaned by the same dentist treating them, your son or daughter will realize that going to the dentist is nothing to be afraid of. They'll be more likely to follow your example and seek out dental care of their own volition when they get older.
If you're not already seeing a family dentist, you're missing out on a host of benefits. Finding the right dentist can truly make a difference in the oral health of your whole family. It can make your life a whole lot easier!
About the Practice
Darby Creek Dental is a family practice in Marysville, OH. We have a team of three skilled dentists who each bring their own unique sets of skills to the table. All three of them are trained to handle the dental needs of patients of all ages. We offer a variety of services, so you can think of us as your one-stop shop for family dentistry. Additionally, we offer early and late appointments to fit in to your busy schedule. To learn more about the benefits of seeing a family dentist, visit our website or call us at 937-644-8822.