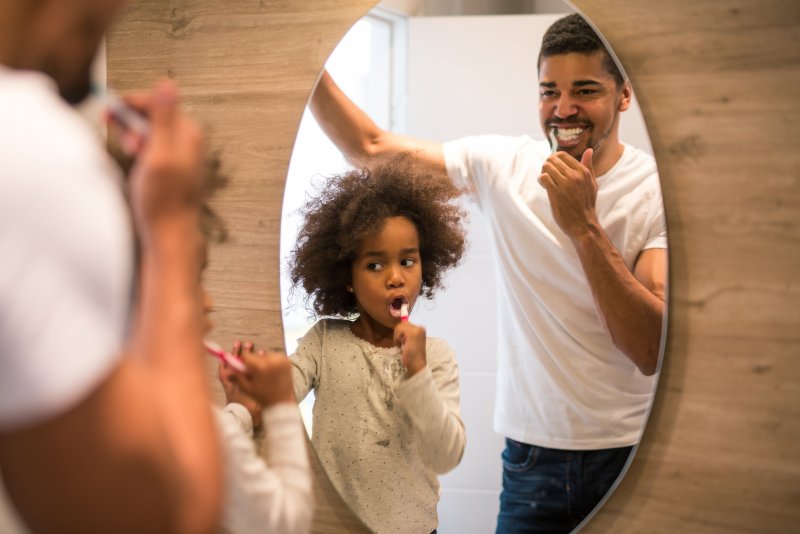 If you're a parent, you're probably well aware that getting children to actually care about their teeth can be incredibly difficult. Kids often lack the patience to brush properly and have trouble conceptualizing the long-term importance of caring for their teeth.
That means that parents usually have to get creative with how they get their kids excited about their teeth. If you're in need of a few ideas, here are some things you may be able to try.
Make it A Family Event
Your child learns a lot from you, even if you don't tell them in words. When you show that you're excited about something, they'll understand that it's important.
Of course, you need to brush your teeth twice a day, just like they do. Why not do it together? By turning oral hygiene into a family activity you can not only make it more engaging, but can also show by example how to clean teeth properly.
Encourage a Scientific Mind
Kids love experimenting, and dentistry is full of opportunities to do that. If your child is curious or scientifically inclined, you might want to turn dental care into a kind of scientific experiment.
One great way to do this is through disclosing tablets, which are small dyeing pills that can attach to plaque deposits, discoloring them and making them more obvious. This can serve as a great way to talk about the problems with bacterial buildup, and it can expose places where your child needs to be brushing more thoroughly.
Make it a Production
When you're a kid, brushing for two minutes can feel like an eternity. One way to make that easier is to incorporate songs and videos into their routine. There are all kinds of videos on YouTube that can walk your child through brushing, and songs that you can play for them while they do.
There are also some children's electric toothbrushes that can do this for them, playing your child's favorite song for the recommended two minutes.
Every kid is different, and you know better than anyone what will motivate your child. That said, hopefully, this guide gave you some ideas that you may find helpful.
About Our Practice
At Darby Creek Dental, we want you to know that in everything we do, bettering our patients' smiles is our #1 priority. When you visit our office, you'll not only benefit from the expertise of three qualified dentists but will receive care and attention from every member of our dental team. From the moment you walk in, we can guarantee that you'll get everything you need to be as comfortable as possible.
If you have any questions about how to engage your children in dentistry, we can be reached at our website or by phone at (937) 644-8822.