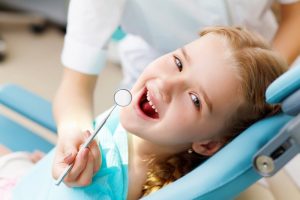 It's February—time to celebrate love. It's also time to celebrate National Children's Dental Health Month. Do you have some extra love to spare for your child's teeth? You love to see them smile, but it can be tempting to disregard the health of your child's baby teeth. After all, they are going to fall out anyway, right? Well, yes, they do eventually fall out, but ignoring your child's baby teeth can have consequences lasting into adulthood. Check out these 3 reasons to care for your child's teeth from day one with your family dentist.
Make Room for Growing Up
Baby teeth do more than just allow your child to chew, speak, and smile. They also serve as place holders in the jaw bone for the permanent teeth that come afterward. If your child loses their baby teeth too soon, their permanent teeth could drift away from socket. When they do come in, they can be more crooked or crowded than they otherwise would have been. By taking care of your child's baby teeth, you can help set them up for success with their oral health later.
Get Ahead of Problems
If you aren't taking your child for dental checkups and cleanings twice a year, you should—even if they just have baby teeth. Not only will the cleaning help their baby teeth stay clean and healthy, but your family dentist can thoroughly inspect your child's gums, teeth, tongue, mouth, and throat for anything that might indicate a more serious problem like a cavity. The dentist can even identify a potential future problem. For example, the dentist can help you recognize that thumb sucking could impact your child's oral development and help you address the issue sooner rather than later. By taking action early, you may be able to avoid or lessen issues in the future.
Establish Good Habits for the Future
Many children thrive with consistent routines. A healthy dental routine is something you should establish with your child as early as possible. Starting with a washcloth, you can massage your infant's gums after feedings to remove bacteria. Then as their teeth come in, you can start gently using a toothbrush daily. Around their first birthday, you should start bringing them to your family dentist for checkups and continue coming every six months after that.
By staying consistent with this habit, your child learns that visiting the dentist is important. And by consistently practicing dental habits at home, you tell your child that their oral health is worth the daily effort. They will then be more likely to take these habits with them into adulthood.
This February, remember to care for your child's dental health. Even though their baby teeth won't be around forever, the life lessons they can learn early can be. Their baby teeth are important enough to protect. Make the commitment to teach your child early how to care for their teeth both at home and through regular dentist visits. For more information about children's and family dentistry, contact your dentist.
About the Practice
At Darby Creek Dental, the three dentists and the staff provide dental services for patients of all ages. From dental cleanings to advanced dental restorations, they offer the care your family needs. They also are open early in the morning and into the evening to accommodate patients with busy schedules. Compassionate patient care and service is at the heart of all they do. To contact them for an appointment, you can call (937) 644-8822 or click here.