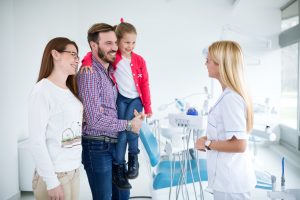 Wake up, get the kids ready and off to school, go to work, shuttle the kids from school to soccer or ballet practice, come home and prepare dinner for the family, wash the dishes, put the kids to bed, sleep. Wash, rinse, repeat. Does this hectic schedule sound familiar? If you are like many American families, it can be hard to find the time to squeeze regular dental appointments into your already busy schedule. This task can be especially challenging when each family members sees a different dentist in a different part of town. If you are looking to simplify your family's dental care, we have three reasons why you should consider choosing a family dentist.
Simplify Your Dental Care and Your Life
Choosing a family dentist that can treat family members of all ages – from an elderly patient down to a toddler – will simplify your dental care and your life. Instead of trying to remember multiple appointments and running all over town, seeing a family dentist means you can make just a single phone call for yourself, your young son or daughter, teenager, spouse or even elderly parent.
What's more, you can make the most of your time by scheduling your next regular cleaning and checkup to be at the same appointment as your child. Not only will you save time, but it can also be less stressful for young children to know that their parent is just in the next room also getting their teeth cleaned.
Receive a Variety of Dental Services Under One Roof
Seeing a family dentist means you know where to turn, no matter the age of the patient. Family dentists are trained to treat patients of all ages so your family can receive a wide range of services all under one roof. Whether your elderly parent needs to be fitted for dentures or your teenage son or daughter wants to straighten their smile with Invisalign clear braces, your family won't need to travel between providers to get the oral care they need.
Establish Good Oral Health Habits Early
By setting the example early on that good oral health is a priority, your children will be more likely to care for their teeth both now and as they grow into independent adults. However, if you and your children have separate dentists, it is likely that they have never seen you sitting in the dentist's chair. By choosing a family dentist, the whole family can visit the dentist's office together to get their teeth cleaned! Making trips to the dentist a family affair will help your children learn from an early age the importance of good oral hygiene.
You have enough daily hassles to worry about – don't let your family's oral health be one of them! Consider switching to a family dentist today.
About Darby Creek Dental
Whether you are considering a cosmetic dentistry procedure to improve your smile or just need a regular checkup for your young son or daughter, the three experienced dentists at Darby Creek Dental can service the dental needs for the entire family. To learn more about what sets Darby Creek Dental apart from other dental offices, visit their website online or call the office at +1 937-644-8822.