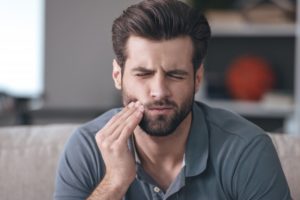 Toothaches rarely happen at a convenient time. With dental offices only accepting emergency appointments and groceries stores packed with people, a toothache during the COVID-19 pandemic is especially inconvenient. How can you keep both you and your smile healthy during quarantine? Here are ten home remedies that can be made with items already in your pantry to treat your toothache until you can see your Marysville dentist.
1.) Clove Oil
Cloves naturally ease pain but can irritate your tongue and gums if used incorrectly. Place a cotton ball with two drops of clove oil on your painful tooth or chew a whole clove to naturally numb the pain.
2.) Ginger-Cayenne Paste
Ginger and cayenne can also block pain signals to the brain. Mix an equal amount of each spice with some water and apply the paste to the afflicted tooth. Be careful to avoid your tongue and gums.
3.) Saltwater Rinse
Salt is a natural disinfectant that soothes swelling and treats infection. Dissolve a teaspoon into a cup of warm water and swish it in your mouth for 30 seconds.
4.) Black Tea Bag
Black tea contains tannins, which have been shown to reduce inflammation. Place a warm, wet bag of black tea onto your tooth for temporary relief.
5.) Hydrogen Peroxide Rinse
A solution of 3% hydrogen peroxide can help treat an oral infection, reduce some pain, and kill harmful bacteria. After spitting it out, wash your mouth with plain water several times.
6.) Ice Pack
Ice is an excellent tool for numbing pain. Place a small ice cube in a plastic bag and wrap it with a thin cloth. Then, apply it to your painful tooth for 15 minutes at a time to dull the ache.
7.) Myrrh Solution
Not only does myrrh help ease inflammation, but it also kills bacteria. Simmer one teaspoon of powdered myrrh in two cups of water for 30 minutes. Add one teaspoon of this solution to a half cup of water and rinse your mouth out. You can do this five to six times a day.
8.) Use the Right Tools
Brushing every day with a desensitizing toothpaste and soft-bristled toothbrush can help ease pain associated with receding gums, weakened enamel, and sensitive teeth.
9.) Sugarless Gum
If you have a damaged or lost filling, you can protect the sensitive part of your tooth by covering it with a softened piece of sugarless gum. This could also be used on a chipped or cracked tooth.
10.) Acupressure
Using your thumb, press the point on the back of your other hand where the base of your thumb and index finger meet. Applying pressure for two minutes will help trigger the release of endorphins.
Most dental practices are still treating emergencies, so if your tooth is knocked out, severely broken, or extremely painful, don't hesitate to call them. For less intense toothaches, these home-remedies can keep you and your smile healthy at home during quarantine.
About the Practice
At Darby Creek Dental in Marysville, OH, we always try to prevent oral health issues before they have a chance to cause discomfort or pain. That's why our team of highly trained dentists encourage all their patients to come in for regular checkups and cleanings twice a year. However, if a toothache or other problem arises, they have the advanced technology and years of experience to quickly, comfortably, and effectively restore your healthy smile. If you are experiencing a severe toothache or tooth damage, please don't hesitate to contact them via their website or at (937) 644-8822.